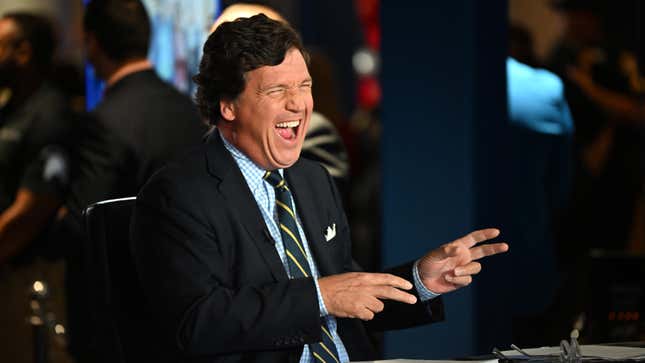 A little over a week after we learned Tucker Carlson had been terminated from Fox News, telling details are trickling in about what may have led to his exit. Media Matters for America obtained several behind-the-scenes videos of Carlson making creepy, sexist comments about women and sex—all amid a former staffer's lawsuit against the network alleging a misogynistic work environment on Carlson's show.

America's Favorite Pasttime: Dunking On Dr. Oz
In one of the videos MMFA surfaced and published on Tuesday, Carlson, while appearing on Piers Morgan's show last April, tells Morgan before going on-air: "If we're going to talk about sex, I'd love to hit some of the fine points of technique." Morgan replies, "We can certainly talk about your sexual technique, especially after your tanning testicles last week," in reference to a bizarre special Carlson filmed last year in which he advocated for testicular tanning as a solution to the decline of American masculinity.
In other footage obtained by MMFA, Carlson refers to another man's girlfriend as "kind of yummy" and then, in a truly meta moment, seems conscious that he's being filmed: "Just kidding, in case this is being pulled off the bird—hey, Media Matters for America, go fuck yourself," he said, jokingly. "I don't even know what his girlfriend looks like. And if I did, I would not find her yummy."
And in another video, Carlson, right before going on air, says, "I can never assess my appearance. I wait for my postmenopausal fans to weigh in on that." MMFA also obtained a snippet of Carlson positively referencing misogynist influencer, alleged human trafficker, and accused rapist, Andrew Tate, as Carlson mentions "speaking to an exile in Romania and welcoming him back into the brotherhood of journalists"—a nod to his interview with Tate last summer.
Theories abound about Carlson's sudden departure from Fox; some attribute it at least in part to the alleged disparaging comments he made about Fox and its executives amid the corporation's Dominion lawsuit. But it's now widely believed the former Fox employee's lawsuit speaking on the alleged misogyny on Carlson's show may have played a more significant role, especially as more is leaked about Carlson's history of sexist behaviors. Last week Abby Grossberg, the former Tucker Carlson Tonight booker, told NPR of her experience on the show: "They don't care about telling the truth and they don't care about women. All they care about are ratings and revenue."
In Grossberg's suit, she claimed Fox News "subjugates women based on vile sexist stereotypes, typecasts religious minorities and belittles their traditions, and demonstrates little to no regard for those suffering from mental illness." Grossberg said this mistreatment she faced stemmed from Carlson's own behavior. "I ultimately went and complained to one of my supervisors about the abuse and the bullying and the gaslighting and misogyny that I was putting up with at Tucker," she told NPR. "And his response to me was, 'We're just following Tucker's tone. That's Tucker's tone.' And I do really believe that it all trickles down from the top."
Even prior to the latest revelations about his inappropriate comments, in 2019, MMFA surfaced a string of even more jarring commentary from Carlson from the 2000s. In 2006, he referred to Martha Stewart's daughter as "cunty," called Britney Spears and Paris Hilton "the biggest white whores in America," referred to Arianna Huffington as a "pig," and claimed Hillary Clinton wanted to "castrate" all men. Unearthed audio also showed Carlson defending statutory rape and child marriage: "The rapist in this case has made a lifelong commitment to live and take care of the person so it is a little different," he said of men who marry underage girls, and talking about his fantasies of young girls sexually experimenting with each other: "If it weren't my daughter, I would love that scenario."
All of this is to say, I find it a fairly viable theory that Carlson's comments caught up with him and the network came to understand him as a liability. Historically, Fox has been beleaguered with top anchors and executives accused of a wide range of acts of sexual harassment and assault, from Roger Ailes and Bill O'Reilly to Eric Bolling. So, by now, I imagine the network knows a liability when it sees one.