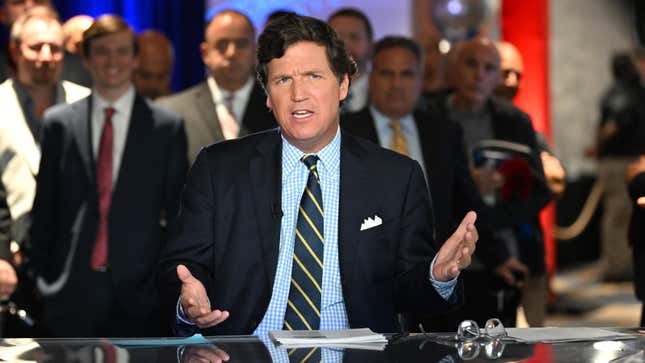 A former Fox News producer says rampant sexism and misogyny permeate the network, in a set of new lawsuits. Abby Grossberg, who's since been placed on "forced" leave, also alleges that network lawyers had "a coercive and intimidating manner" when preparing her for a deposition last year in the defamation case brought by a voting equipment company, according to suits filed in both Delaware and New York.
Grossberg's lawsuits come at a tense time for the network. A defamation lawsuit brought by Dominion Voting Systems for $1.6 billion alleges that the network repeatedly aired conspiracy theories about its equipment during the 2020 presidential election. The first hearing takes place Tuesday in Delaware.

Grossberg alleges that network superiors called host Maria Bartiromo a "menopausal" and "crazy bitch." When she moved to Tucker Carlson's eponymous show, Grossberg alleged that the Tucker Carlson Tonight offices in Manhattan had what the Times described as "large pictures of Rep. Nancy Pelosi of California, then the House speaker, wearing a plunging swimsuit." And after her first day at the Tucker Carlson Tonight, Grossberg said she was asked if Bartiromo was sleeping with House Speaker Kevin McCarthy (who was, at the time, the House Republican leader). Grossberg's lawsuit also alleges that the Tucker Carlson Tonight staff had a "mock debate" about whether they'd want to sleep with Michigan Gov. Gretchen Whitmer (D) or Tudor Dixon, her Republican opponent.

"That's what the culture is there," Grossberg said in an interview with The New York Times. "They don't respect or value women."
Grossberg alleges that she and other women at the network are being scapegoated to protect male talent. In an excerpt of the federal lawsuit filed in New York, Grossberg said that the way Fox's legal team prepared her for her deposition in the Dominion defamation case is opening her up to "civil and criminal liability for perjury." She also contends that the network is " subtly shifting all responsibility" for defamation to herself and Bartiromo, the host for whom Grossberg previously worked for as a producer.
Grossberg was placed on "forced administrative leave" as of Monday, per the Times. A Fox spokeswoman said that it's taking the allegations seriously: "Fox News Media engaged an independent outside counsel to immediately investigate the concerns raised by Ms. Grossberg, which were made following a critical performance review. We will vigorously defend these claims."
Fox has also sued Grossberg in an attempt to keep her discussions with the company's legal teams out of the public eye. "Ms. Grossberg has threatened to disclose Fox News Media's attorney-client privileged information and we have filed a temporary restraining order to protect our rights," Fox News said in a statement to NPR.

While not dismissing how Grossberg was treated on an individual level, it's unsurprising that Fox News is—again—being accused of sexism and discrimination. We've all lived 10,000 lives since Roger Ailes' death in 2017 but, for decades, he was the most powerful (and gross) person in broadcast news. The last years of Ailes' time as Fox News chairman and CEO—and last years of his life—were dogged by repeated lawsuits from former Fox contributors who accused Ailes of repeated sexual harassment. In about one calendar year, Gretchen Carlson, Megyn Kelly, Andrea Tantaros, Julie Roginsky, and Laurie Duh filed lawsuits against Ailes. Bombshell, the 2019 film starring Charlize Theron, Nicole Kidman, and Margot Robbie was based on their accounts. Forgive me for not being surprised that Fox News was unable to create a work environment that values women after decades of Ailes steering the ship.