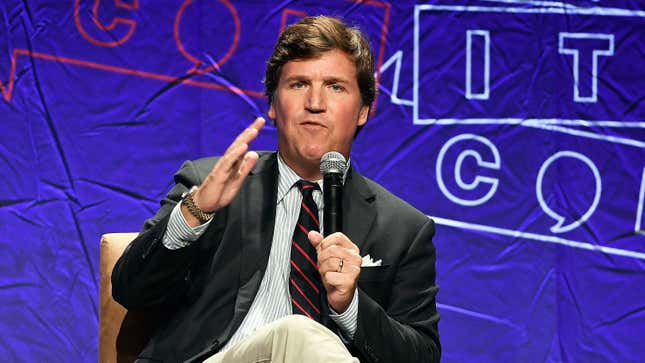 Tucker Carlson, a sentient white supremacist bow tie who's perpetually "just asking questions," is out at Fox News, effective immediately. His last show was on Friday night, and he closed out by saying, "We'll be back on Monday." This is an earthquake in the conservative media world and comes days after Fox settled a lawsuit with Dominion Voting Systems over the 2020 election lies for nearly $800 million.

Taylor Lautner Doesn't Even Remember Saying 'Bella! Where the Hell Have You Been Loca?'
But Carlson's show wasn't the focus of that case, which centered more on claims made by Maria Bartiromo, Lou Dobbs, and Jeanine Pirro. (The network canceled Dobbs' show in early 2021.) Still, Carlson was a separate headache for the network. One of Carlson's producers, Abby Grossberg, recently sued the network for a "vile, sexist" work environment; following the suit, the company placed her on leave, then fired her. The Los Angeles Times reported that Carlson's departure is related to Grossberg's lawsuit and that Fox Corporation Chairman Rupert Murdoch himself wanted Carlson fired. The anchor's senior executive producer Justin Wells was also fired Monday.
Semafor's Max Tani posted a screenshot of the Fox press release, which reads: "FOX News Media and Tucker Carlson have agreed to part ways. We thank him for his service to the network as a host and prior to that as a contributor. Mr. Carlson's last program was Friday April 21st. Fox News Tonight will air live at 8 PM/ET starting this evening as an interim show helmed by rotating FOX News personalities until a new host is named."
The release implies it was mutual, but journalist Brian Stelter—who's covered Fox for years and is writing a book on the company—noted that it's unusual not to give an anchor a chance to say goodbye.
And New York Times reporter Michael Grynbaum tweeted shortly after the news broke that Carlson was "informed on Monday morning" that he was out—suggesting it wasn't mutual at all.
Here's Carlson's sign-off from Friday, where he didn't give any indication that it would be his last show:

Can't wait to find out what the hell is going on here!

This is a breaking news post and will be updated.