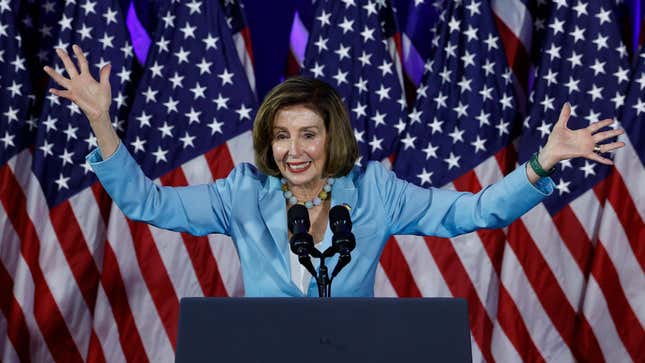 On Friday, 83-year-old former House Speaker and, for some reason, current member of the House, Rep. Nancy Pelosi (D-Calif.) announced that she will run for re-election in 2024. To which I say: absolutely not, hang it up, how have you not retired already.
Republicans Pull Out All the Stupid Stops While Debating Abortion
Yes, Pelosi was the first woman House Speaker and was incredibly good at her job in many ways. But she also endorsed anti-abortion Democrats like Rep. Henry Cuellar (D-Texas) and opposed progressive policy goals, like when she said that members of Congress should be able to trade stocks, and when she called a billionaire tax a publicity stunt weeks before officiating the wedding of a literal oil heiress. (Pelosi's husband, Paul, owns stock in tech companies facing antitrust allegations.)
A larger issue is that Pelosi has been in office since 1987 and will be 84 on Election Day. She's been in power for almost 40 years and wants to keep going? This is not exactly modeling good behavior for other octogenarian and nonagenarians who need to get lost, like Sen. Mitch McConnell (R-Ky.) and Sen. Dianne Feinstein (D-Calif.). Oh, that's right, Pelosi brushed off the very valid concerns about Feinstein's ability to serve as mere sexist garbage. After Feinstein returned to the Senate in rough shape in May, Pelosi told reporters, "If she were a guy, you wouldn't even hear about it. You wouldn't even hear about it. You know it, and I know it." These are the words of a person who believes she and others have an unfettered right to cling to power.
Political observers had expected Pelosi might retire after this term, or even during the term, and there was chatter about her Democratic activist daughter Christine Pelosi running for the seat. But nope! Pelosi announced her 2024 run in a post on Twitter, saying: "Now more than ever our City needs us to advance San Francisco values and further our recovery. Our country needs America to show the world that our flag is still there, with liberty and justice for ALL. That is why I am running for reelection — and respectfully ask for your vote. -Nancy."
The New York Times reported that "people close to her said that she ultimately decided to run again because she viewed it as an urgent priority to re-elect President Biden and help Representative Hakeem Jeffries of New York, the minority leader, become the next House speaker." Huh??? Her seat is safely Democratic and though it was redrawn after 2020, an analysis shows that voters post-redistricting would have elected Biden by a gigantic margin of 86% to 12%. Maybe this move is merely about her status as a big fundraiser for Democrats, in which case, just fundraise as a private citizen!
Pelosi is an extremely wealthy person, in part because her aforementioned husband, and there are so many other things she could be doing instead of continuing to sit inside a 270-year-old building with a bunch of other old people. She could be napping on a beach, taking wine-tasting classes, exploring all of our National Parks, opening her own chocolate ice cream shop, going to every portrait museum in the world, taste-testing paella from every region in Spain—literally anything other than this. You've had a good(?) run, Nancy, just please leave us alone now!!!