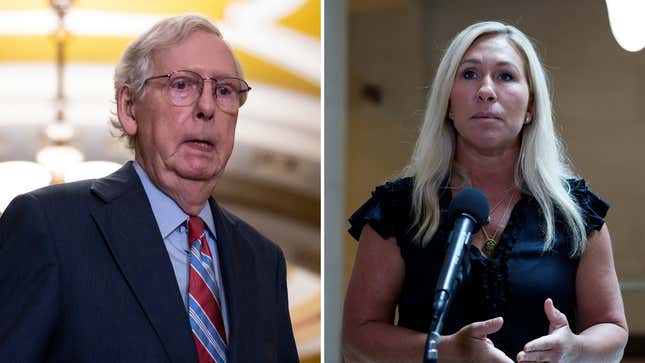 Republicans are over Senate Minority Leader Mitch McConnell's (R-Ky.) public lapses in functioning. On Wednesday, the senator froze at a press conference, unable to speak, for more than 20 seconds as his aides attempted to prompt him to answer. And that's the second time in five weeks this has happened in the middle of a press conference, which suggests it's happening a lot more than the public sees.
Leading the calls for McConnell to resign now is Rep. Marjorie Taylor Green (R-Ga.)—who's openly gunning to be Trump's running mate—because even a broken clock is right twice a day. "Severe aging health issues and/or mental health incompetence in our nation's leaders MUST be addressed," Greene tweeted on Wednesday. "These politician's staff and family members should be ashamed of themselves by enabling and allowing their loved ones to remain in office all to hold power. We are talking about our country's national security and it's all at stake!"
Greene, of course, also took the opportunity drag President Joe Biden, Sen. Dianne Feinstein (D-Calif.), and Sen. John Fetterman (D-Penn.), the latter of whom is simply disabled post-stroke and using federally allowed accommodations to do his job.
And Greene isn't the only Republican annoyed with McConnell's distracting health. In an unsigned editorial, editors at the National Review (the conservative rag for people who hate good movies and equitable school access) said the "legend" of the Senate must "step aside from leadership."
The magazine's case is based mostly on the public appearances that we've all witnessed, including the one in the U.S. Capitol last month in front of a massive press scrum.
The editors wrote:
McConnell has noticeably aged since his bad fall in March, when he sustained a concussion and broken rib, and he should want, for his own sake and that of his colleagues, to go out on his own terms.

The details can be left to McConnell, who deserves a large measure of deference. A leadership transition doesn't need to happen urgently, but the wheels should be turning.

Stepping aside from leadership would not necessarily require leaving the Senate; McConnell could, like Nancy Pelosi, remain in office, and he would doubtless remain influential so long as he is capable of serving. But the job of caucus leader demands more.
In short: Stay in office to keep the Republican headcount alive, but name a new party leader.
Keeping McConnell physically on the Senate attendance roll is important because of the possibility of a Democratic replacement. Though the Kentucky legislature (under a Republican majority) passed a bill in 2021 that demands a governor name a successor from the same party, there's no guarantee it would happen. Kentucky Gov. Andy Beshear (D) refused to even engage with the speculation of an empty seat and whether or not he'd have to fill it with a Republican.
Republican troll Charlie Kirk specifically called for McConnell's retirement on Wednesday. "Our nation is led by geriatrics in both parties who are out of touch with their voters and won't live to see the damage they're ravaging on the nation. Many, like Mitch McConnell, are physically unable to do their jobs. Retire," he tweeted.
It's hard to imagine myself agreeing with so many of these people, but I think retirement to a nice estate in Kentucky does sound lovely.