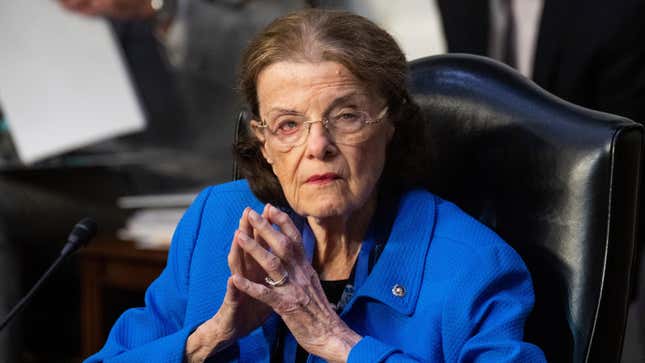 Despite her months away from the Senate and repeated calls for her resignation, Sen. Dianne Feinstein (D-Calif.) had mostly returned to her normal life of being told what to say in the Senate. That is until multiple lawsuits about her family's riches have taken center stage, exposing the fact that a woman who feels mentally fit enough to remain in the Senate has apparently given power of attorney to her adult child.
What Questions are Senators Asking Ketanji Brown Jackson About Abortion?
Some background: Feinstein, a very wealthy person, married Richard Blum, a fellow very wealthy person, in 1980. The pair remained married until the financier's death in 2022. It was Feinstein's third marriage and both people entered the union with children. The most important one, for our purposes, is Katherine Feinstein, a 66-year-old former judge, from Sen. Feinstein's marriage to Jack Berman.
At its core, this seems to be a dispute among the ultra-wealthy and their children, but it's absolutely wild to think that a woman who feels mentally fit to serve in Congress needs another adult to take on her legal affairs. Katherine filed two lawsuits against the co-trustees of Blum's estate. The less interesting lawsuit is about a Bay Area beachfront mansion allegedly being used by Blum's daughters from a previous marriage, which is stymying Feinstein's attempts to sell the property.
The second lawsuit—also filed by her adult daughter, which was first reported by the San Francisco Chronicle—says the trustees have been holding back funds from Feinstein as she continues to rack up medical bills in her old age. Due to a bout of shingles, Feinstien missed nearly three months of work in the Senate, handing Democrats a tenuous majority on the powerful Judiciary Committee and holding up countless judicial appointments. After Feinstein finally returned to work, the public learned she had a horrific complication during her time away: Encephalitis, which is a condition where your brain swells.
Feinstein's lawsuit filed on her behalf by her adult daughter alleges that Feinstein "incurred significant medical expenses" and "the purported trustees have refused to make distributions to reimburse Senator Feinstein's medical expenses." In the filing, Katherine signs for her mother.
Yet, the trustees under fire say this never happened and have never refused to reimburse Feinstein for her growing medical expenses.
"My clients are perplexed by this filing," Steven P. Braccini, attorney for trustees Michael R. Klein and Marc T. Scholvinck said in a statement to the NYT. "Richard Blum's trust has never denied any disbursement to Senator Feinstein, let alone for medical expenses."
Braccini also said he's not been given proof of legal power of attorney. "Nor has Katherine made it clear, either in this filing or directly to my clients, why a sitting United States senator would require someone to have power of attorney over her," he said. "While my clients are deeply concerned, we all remain hopeful that this is simply a misunderstanding that can be quickly resolved, rather than a stepdaughter engaging in some kind of misguided attempt to gain control over trust assets to which she is not entitled."
If Katherine really does have power of attorney over her mother's legal affairs, it's another bullet point on the List of Reasons Feinstein Shouldn't Be In Office. However, as much as we rail against Feinstein's decision to stay in the Senate, it's really a closed matter. If she steps down, the Senate returns to a 50-50 split, where Republicans have made it clear they're uninterested in replacing Feinstein on such an important committee, even temporarily. Unfortunately, it seems as though the time to solve the Feinstein problem was back in 2018 when even the California Democrats Executive Board declined to endorse her. Instead, we're all stuck with a nonagenarian politician until 2024. Unless she dies in office, which would cause chaos.
To their credit, Feinstein's office chose not to comment, declining to truly wade into another mess of familial drama. "This is a private legal matter," Adam Russell, a press representative, told the NYT. "Senator Feinstein and her office won't have any comment."