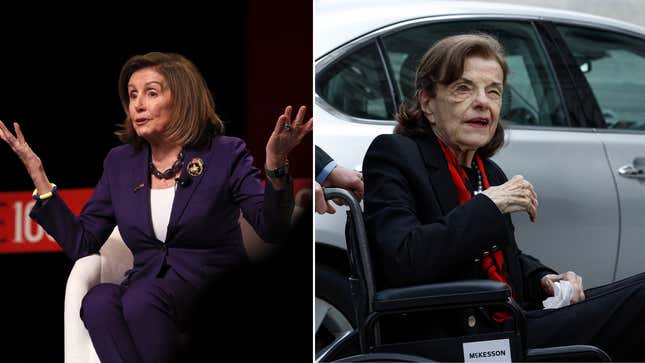 Last month, Sen. Dianne Feinstein (D-Calif.) finally returned to Congress after a months-long recovery from shingles. The 89-year-old senator, who's been in office for 30 years, is the chair of the Senate Judiciary Committee, and her absence delayed the appointment of many of President Joe Biden's key judicial nominees. Amid demands that Feinstein retire and arguments that she's no longer fit to serve, top Democrats have continued to defend her. Rep. Nancy Pelosi (D-Calif.), formerly Speaker of the House, has been more vocal than most.
Republicans Pull Out All the Stupid Stops While Debating Abortion
On Wednesday, CNN reported that in late May, Pelosi doubled down on her support for Feinstein by blaming misogyny and "the left" for the scrutiny the senator has faced. "If she were a guy, you wouldn't even hear about it. You wouldn't even hear about it. You know it, and I know it," Pelosi told a CNN reporter. She added that "important senators who were chairs of committees" had been in worse shape than Feinstein is now but didn't face the same criticism.
Crucially, however, she declined to name names to the reporter. (CNN listed three senators who refused to retire despite their advanced age and health issues, including loud-and-proud segregationist Strom Thurmond—which is not great company to be in.)
But unless Pelosi, whose daughter works as an aide to Feinstein, gives actual names of senators who are or were experiencing worse health conditions than Feinstein is, the argument she's making—that Feinstein is being uniquely scrutinized—is purely hypothetical. And if senators remaining in office and holding powerful committee positions in advanced age and/or ill health really is such a widespread issue in the Senate, that only makes a greater case for Feinstein to retire: She could set an example, rather than contribute to the problem.
Last month, the New York Times reported that Feinstein's condition was even more severe than we'd previously known, as her shingles had advanced to her neck and face, ultimately resulting in vision problems, brain swelling, and Ramsay Hunt syndrome (a type of facial paralysis). CNN spoke with numerous California House Democrats—several of whom spoke on the record—who said they haven't personally heard from or spoken with Feinstein in years. One unnamed representative said that "Californians should have two responsive, active senators, and they don't"; other Democrats in Congress and progressive advocates in the state expressed frustration with Feinstein's declining leadership and energy in recent years.
Some unnamed California Democrats speaking to the San Francisco Chronicle in April expressed that they see no good solutions, because even if Feinstein were to step down, there would be no guarantee that Republicans on the Senate Judiciary Committee would allow another Democratic senator to take her place.
Nonetheless, the delays in confirming Biden's judicial nominees came at an extraordinarily tenuous time for human rights in post-Roe America, as challenges to abortion bans and restrictions thread in and out of federal courts across the country. It hardly seems sexist to suggest that women and pregnant people in California—and the U.S. as a whole—deserve more proactive support from their representatives.