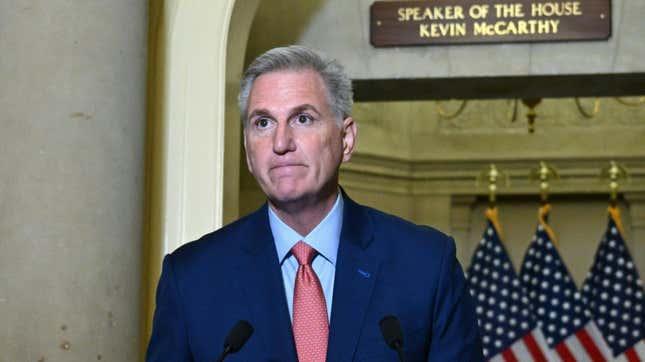 There are 18 House Republicans who represent districts that President Joe Biden won in 2020, which means they are extremely vulnerable to losing their seats in 2024. And wouldn't you know it, these Republicans don't want to vote on anything restricting abortion access because they correctly recognize that it could bite them in the ass.

Republicans were trying to use what little leverage they had in the House, where they hold a five-seat majority, to jam anti-abortion provisions into must-pass spending bills needed to prevent a government shutdown on October 1. But Politico reported Wednesday that a group of moderate Republicans killed a budget bill that would have banned the mailing of abortion pills nationwide, even in states where abortion is still legal. A separate defense spending bill that would overturn a Pentagon policy that funds travel for service members who need abortions out of state, is now also in jeopardy. GOP leaders were betting that they needed to worry more about pushback from activists and their hard-right faction than from moderates...and they bet wrong.
The abortion pill provision was tucked into an agriculture funding bill that also funds the Food and Drug Administration, and Politico noted that the agriculture bill is usually among the easiest to pass—but not this time. "It's dead, dead," one anonymous source said of the bill to Politico.
A dozen moderate Republicans pushed back in July, saying they wanted the abortion restriction stripped from the bill. Two members of Congress from New York in Biden districts even went on the record saying as much. Rep. Marc Molinaro (R-N.Y.) told reporters at the time that he "cannot vote for the bill" if the abortion pill rider was there. And Rep. Mike Lawler (R-N.Y.) said "Some states allow it to be mailed, some don't. That should be a decision that the states make."
Republicans tried to revive talks about the bill, including the abortion pill rider, during the August recess, but they failed. "It's dead, dead," one anonymous source said of the bill to Politico.
Rep. John Duarte (R-Calif.), who represents CA-13, a district that Biden won, said he and others wanted to vote on the abortion proposals separate from the funding bills. "A number of us would like to see the stickier social issues presented as individual amendments," Duarte told Politico. This tells you everything you need to know: It's more than a year out from the 2024 election but Biden-district Republicans are rightfully terrified that any votes they take on abortion will haunt them until Election Day.
So, now—in a big embarrassment for House Speaker Kevin McCarthy (R-Calif.)—Republicans will likely have to work off the agriculture spending bill passed by the Democratic-controlled Senate. The Senate bill won't have any abortion restrictions and McCarthy looks weak as hell for not being able to pass his own bill so far.
McCarthy is now worried about losing his Speakership because, during the pathetic 15 rounds of voting it took for him to get the job, he agreed to make it easier for members to force a vote to oust the speaker. And Kev sounds a little stressed over the budget negotiations as he reportedly dropped an F-bomb during a closed-door meeting earlier today when daring his caucus to fire him. One member recalled him saying: "If you want to file a motion to vacate [the Speaker], then file the f‑‑‑ing motion."
Republicans in disarray! We absolutely love to see it. Now we all get to see if these clowns end up forcing a government shutdown because they're fighting about abortion.