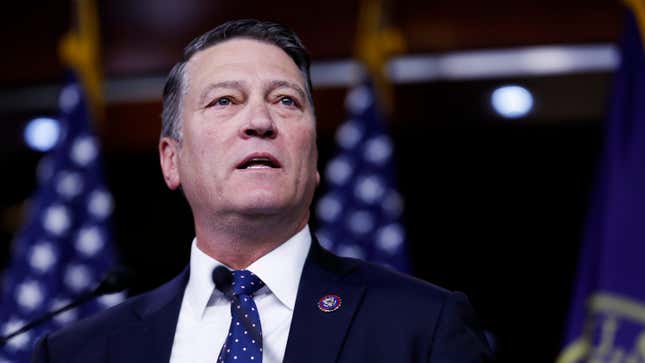 The House passed a version of the National Defense Authorization Act (NDAA) on Friday morning that would overturn the Pentagon policy that reimburses service members for travel costs related to abortion care, if it goes into effect. This is the first time the Pentagon's policy has made a meaningful impact on the operations of the House, but in the Senate, Sen. Tommy Tuberville (R-Ala.) has been using the policy as a reason to halt all military promotions since March.
GOP Congressman Spent His Sunday Daring Biden to 'Come and Get' His Guns
The bill passed with a vote of 219-210; four Democrats voted for the amended bill while four Republicans voted against. Rep. Mikie Sherrill (D-N.J.) told reporters during a press conference ahead of the Friday morning vote that the amended bill included "everything [the far right] asked for," including barring gender-affirming healthcare for service members and reimbursing abortion-related travel expenses.
The amendment to block the Department of Defense's travel policy—which does not pay for abortion care because the federal government cannot do so—was approved Thursday night. Rep. Ronny Jackson (R-Texas) introduced the amendment, but he had the backing of 71 other Republican representatives. The amendment was passed close to midnight Thursday, along with amendments to strip all diversity, equity and inclusion programs from the DoD; ban trans healthcare treatments; and an old-fashioned book ban championed by Rep. Lauren Boebert (R-Col0).
Rep. Chrissy Houlahan (D-Penn.)—who is one of two Democratic women veteran representatives (the other is Sherrill)—told reporters on Friday morning that the new version of the NDAA is a "biased and hijacked bill." Houalahan said the amendment makes it clear that Republicans don't care about women: "We're telling 51 percent of our population that we don't respect them and we don't respect their bodily autonomy," Houlahan told reporters. "If we believe that then we're telling them we don't believe they should be a part of this volunteer military."
The NDAA typically passes with more bipartisan support and, this time around, it initially had the near unanimous support of the House Committee on Armed Services. But Thursday night's amendments upended that goodwill.

Republicans have sought to make the Pentagon's pretty straightforward policy as contentious as possible. Tuberville's bizarre crusade in the Senate has left the U.S. Marine Corps without a confirmed leader for the first time since before the Civil War.
Sherrill, a Naval Academy alumna and former Navy helicopter pilot, told reporters ahead of Friday's vote that the amendment "makes our servicewomen pawns in an extreme anti-abortion" attack, and criticized Republicans for using the defense budget bill to further their agenda. "They transformed this [bill] into a partisan bill that makes our country weaker," Sherrill said. "I can't in good conscience vote for this bill. We have to do better."
The Senate's version of the NDAA was introduced this week, though a final vote on it is not yet scheduled. After it passes in some shape or form, it will need to be reconciled with the House bill—so anger over the Pentagon's abortion travel is unlikely to fade from the headlines any time soon.