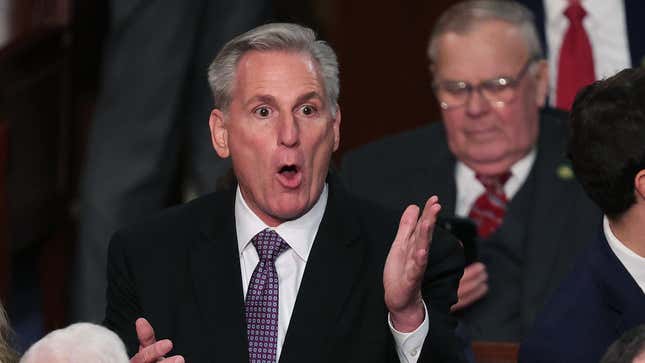 In his utterly embarrassing bid to become Speaker of the House, Rep. Kevin McCarthy (R-CA) has practically promised all but his first-born child to ultra conservative detractors who have dubbed themselves "Never Kevin." On the fourth day of voting and the 12th(!) ballot, he's finally making some progress—but the whole spectacle is humiliating nonetheless.
Republicans Pull Out All the Stupid Stops While Debating Abortion
It is literally the House Speaker's job to whip and count votes on legislation, and McCarthy is showing very publicly that he's not up to the task. Say what you will about the political views of Rep. Nancy Pelosi (D-CA), but she was exceptionally effective in the role. She rarely ever went into a vote without knowing whether she would win, and certainly not one for herself as Speaker. Please contrast that philosophy with Kevin's:
When Pelosi faced a challenge to her leadership post in 2016, she held a closed-door vote first, rather than air the party's dirty laundry live on TV. Even Republicans are mad about the shitshow this week, as Rep. Don Bacon (R-NE) told Politico: "The actions of a few that have shut down the House has embarrassed the GOP and our country."

A Speaker usually needs 218 votes to win if all Representatives are there and voting—but C-SPAN said there are 432 members on site today, so McCarthy needs 217. Republicans won 222 seats in the midterms, meaning McCarthy could only lose five votes and become speaker. The congressman's strategy in the first two days seemed to be just letting people vote again and again and hoping for the best. He lost votes every round. But on Friday morning, McCarthy said he'd actually make progress this time, which would mean either earning more votes than his previous high of 201, or reducing his defections from 21.
There were still dumb stunts on the House floor, like this fakeout from Matt Rosendale (MT), and this little speech from Matt Gaetz (FL):
And he did orchestrate at least 14 flips in his favor, including high-profile holdouts—and shitheads—Reps. Paul Gosar (AZ), Scott Perry (PA), and Chip Roy (TX).
Gosar looks like he's having a great time:
At the end of the ballot, McCarthy still lost, but earned a total of 214 votes, finally becoming the top vote-getter and surpassing the Democrats' nominee, Hakeem Jeffries (NY). He reduced his defections down to seven, including Gaetz, Rep. Lauren Boebert (CO), and Rep. Andy Biggs (AZ).
McCarthy now needs to pick up just three more votes to win. As we await the 13th ballot (unlucky number 13??), please let the tremendous memes continue.