This year was pretty much a wash. The only thing good that really happened aside from getting very, very into skincare was that finally—FINALLY—some of the world's most powerful men had to answer for the way they've treated women, thanks to the profound courage of women who spoke up and spoke out. We at Jezebel are in total awe and admiration of those women.

There are plenty of men, though, who got away with their continued statuses as pieces of shit. Here are some highlights from that group.
---
Donald Trump
Donald Trump was not only excused for his endless transgressions against people of color, women, immigrants, the working class and our entire planetary existence—he was rewarded by being elected to the highest office in the land and is somehow, after months of consecutive disasters, is still president? In a time when it seems like men in multiple industries including politics are finally being held accountable for sexually harassing and assaulting women, Trump—who's been accused of sexual misconduct by nearly a dozen women—remains seemingly unscathed. Adding to that the FBI investigation into ties with Russia, multiple failed cabinet appointments, and his insane Twitter account, it feels less incredible that Trump is still standing than that anything—no matter how legit—could possibly take him down. He is our never-ending nightmare. 
—Maddie Davies
Casey Affleck

As man after man in Hollywood faces the consequences for harassing, assaulting, and abusing women in the entertainment industry post-Weinstein, it's easy to forget that this was also the same year that Casey Affleck won an Oscar. This is a man who reportedly, in the process of filming the 2010 movie I'm Not There, physically and verbally sexually harassed two women on the production who ended up filing million dollar lawsuits against him, both of which were eventually settled. Had Manchester by the Sea be Oscar-worthy this year instead there's no doubt in my mind that Affleck wouldn't even be in the running for the award. Even now petitions are being created to get the actor disinvited from next year's award show. But somehow, even in the months after the Weinstein story broke and his brother Ben Affleck was apologizing for his own behavior, the conversation hasn't swung back to Casey. Here he is, getting through another year without really owning up to his past behavior.
G/O Media may get a commission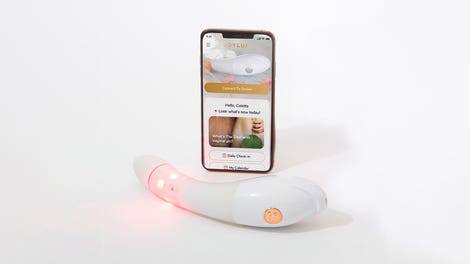 $50 Off
Joylux vFit Gold Device
—Hazel Cills
Richard Spencer
Pretty much the only consequences white supremacist haircut Richard Spencer faced this year were getting punched in the freaking face on inauguration day and getting kicked out of CPAC. Ok, and I guess the IRS did strip his "think tank," the National Policy Institute of its tax-exempt status this year. But he's still the figurehead of a movement that's only gaining steam under a white supremacist president who has encouraged the hatred of immigrants, people of color, trans people, Jews, women, and basically anyone who isn't a member of his own family. White supremacy is on a terrifying rise in the United States and Richard Spencer, the man who made it look "cool" still has not answered for that.
—Kelly Stout
Johnny Depp
Johnny Depp entered 2017 followed by the specter of a nasty, acrimonious divorce from Amber Heard and a host of abuse allegations that have had little to no effect on his career. Much like other men who have been outed as sexual predators and abusers this year, Depp also employed an army of lawyers to conceal his bad behavior. He sued his business managers for allegedly stealing $28 million; those business managers countersued him, saying that the reason he has no money is because he spends it all on shooting Hunter S. Thompson's ashes out of a cannon. While his fiscal irresponsibility is galling, what's worse is the fact that, despite Heard's allegations, he continues to get work. Most recently, he was cast as Grindelwald in the forthcoming Fantastic Beasts: The Crimes of Grindelwald and received a stirring defense from J.K. Rowling, who wrote that "Based on our understanding of the circumstances, the filmmakers and I are not only comfortable sticking with our original casting, but genuinely happy to have Johnny playing a major character in the movies." Fantastic Beasts and Where to Find Them made $800 milllion at the box office. Its sequel, starring an alleged abuser and known dickhead, will likely do just as well. Congratulations, Johnny—you did it.
—Megan Reynolds
Roy Moore
The Republican Party continues to stand by now-defeated senate candidate Roy Moore, a racist, Islamophic, and anti-gay former judge who stands accused of sexual misconduct by eight women—some who were only 14 when an adult Moore allegedly made his advances. According to a retired police officer, cops were told to keep Moore away from high school cheerleaders. Despite the staggering allegations, less than a week before Alabama's special election, Moore was in the lead and Donald Trump issued a full-throated endorsement—a nice show of solidarity between two alleged sexual predators. Moore has denied the allegations and his campaign spokesperson Jane Porter told CNN that she doesn't believe Leigh Corfman, who alleges Moore molested her when she was 14 years old. Porter also amazingly told viewers that because there are humans who have not accused Roy Moore of any misconduct, perhaps he is innocent: "We need to make it clear that there's a group of non-accusers, that have not accused the judge of any sexual misconduct or anything illegal," she said. I would say it's shocking that Moore still a viable political career, but then again, look at who Americans elected president.
—Prachi Gupta
Clarence Thomas
As an ongoing cascade of prominent male predators and sexual harassers are ripped from their various cultural pedestals, it's worth noting one man who sits quietly above us all, playing a decisive role in every facet of American life. Anita Hill's groundbreaking 1991 testimony accusing then-Supreme Court Justice nominee Clarence Thomas of workplace sexual harassment led us to the remarkable moment we're witnessing right now, and it's deeply, painfully ironic that the man who faced her credible allegations continues to enjoy a lifetime appointment to the country's highest court. Had things gone differently, maybe we wouldn't have a radical "originalist" with authoritarian leanings and questionable loyalties acting as a check on the incompetent fascism that's overtaken the executive branch.
—Ellie Shechet
XXXTentacion
In October 2016, then-18-year-old Jahseh Dwayne Onfroy was arrested for doing all kinds of things to his pregnant girlfriend—he was charged with witness-tampering, false imprisonment, aggravated battery of a pregnant woman, and domestic battery by strangulation. The testimony of Onfroy's victim, which Pitchfork ran excerpts of in September, is nothing short of horror literature ("He was lightly dragging the tool against her inner thigh when she passed out"). That's to say nothing of his charges of robbery and assault with a deadly weapon, the time he punched a fan onstage, and when he beat up a "faggot" in jail. Nonetheless, Onfroy, whose musical moniker is XXXTentacion, steadily added to his devoted following this year. In June, he was announced as one of XXL's Freshman Class. With 87,000 album-equivalent units moved the first week of its August release, his debut album 17 debuted at No. 2 on the Billboard 200. His single "Jocelyn Flores" went Top 40. In October, over a month after Pitchfork's report, Billboard announced that Onfroy had signed an estimated $6 million deal with Capitol. Onfroy claimed he was terminating that deal, but then his rep refuted that claim to Spin. In October, he apologized to women he "disrespected" and has pledged $100,000 to domestic violence prevention programs. What a guy. This month, he briefly landed in jail for violating his bond, before being released on house arrest. He faces 15 felony counts and decades in prison. So maybe come this time next year, XXXTentacion will no longer have gotten away with it.
— Rich Juzwiak
Nigel Farage
What earns Farage his place on this list is Brexit, and all the rest of it. The former leader of the far-right British UKIP party, Farage was a driving force for the break with the EU, stoking anti-immigrant sentiment with the unseemly enthusiasm of a vaudeville villain tying someone to the train tracks. The referendum was supposed to fail and he was supposed to fuck off. Instead, the UK is trying to figure out how to make this happen without collapsing their economy and Farage got to pose with the tangerine-elect in front of his stupid golden elevator. In September, he appeared at a rally in Alabama for Roy Moore, alongside the Duck Dynasty guy. Farage is a symbol for all the other ghouls—not just in America, but around the world—that have been emboldened and energized by Trump's win. (To celebrate the anniversary of the election, he had an op-ed in the Telegraph, with the headline: "The elitists mocked my faith in Donald Trump, but one year on his revolution is still rolling." Every time I see his face—the face of an evil storybook stoat—I want to scream.

—Kelly Faircloth
Woody Allen
In a heartbreaking December op-ed for the Los Angeles Times, Dylan Farrow wondered why the so-called Weinstein effect was not having any on Woody Allen, her adoptive father who she says sexually molested her at the age of seven. In part, she pointed out the enraging hypocrisy of actors like Kate Winslet, Blake Lively, and Greta Gerwig, who have praised the women and men coming forward against Hollywood power players but who hedge when asked about working with Allen. It's seemingly chickenshitted and small of these women, particularly while praising the courage of those coming forward, but Farrow made another point: that Allen, like Weinstein, uses organized intimidation as a pathetically desperate, and therefore dangerous, tactic to keep the story about his alleged molestation under wraps. "Even now, I hesitate to speak out," wrote Farrow. "Allen's savvy affiliates know that it's unseemly to direct attacks at me, an alleged victim, and so the invective is directed at my mother again and again."
This Oscar season, Amazon Studios is promoting Wonder Wheel, Allen's latest film, but is apparently not pushing for his inclusion for Best Director or Screenplay, seemingly employing the tactic that if they don't speak his name, this little "problem" will go away. It's worth noting that Wonder Wheel, which stars Kate Winslet, Jim Belushi, Juno Temple, and Justin Timberlake, is about a woman whose lover becomes interested in her stepdaughter, "whose breasts have been lit to glow like Vermeer peaches," wrote Manola Darghis in the New York Times. And his next film, A Rainy Day in New York, which stars Elle Fanning, Selena Gomez, Jude Law, and Rebecca Hall, will reportedly feature an "adult-teen sex scene"—between Law and Fanning, who is 19 but whose character in the film may be just 15. (According to Page Six, Law's character defends himself by retorting that she is in fact 21, which happens to be the same age as Soon-Yi Previn, Allen's stepdaughter at the time, when he began their affair.)

It feels like he is taunting us. And yet even after Farrow came forward in 2014, it seems like the only thing that has been marred for Allen is his reputation with the segment of the public who care about women and girls. Not his producers, not his Hollywood enablers, not the actresses who otherwise speak in support of the abused. Woody Allen's shit stinks, and his movies are becoming progressively worse, too. So why is he still allowed?
—Julianne Escobedo Shepherd