The ugly legal battle between Johnny Depp and his former managers at The Management Group trudges onward, with the latter amending their complaint to emphasize Depp's "clear and epic" sense of entitlement. He alone, they say, is responsible for his financial troubles.
To be sure, Depp does not seem to be, shall we say, spartan in his spending. Remember, this is the man who dropped millions of dollars for the privilege of shooting Hunter S. Thompson's ashes from a cannon—a tribute to the gonzo journalist that, however well-meaning, seems a bit much. He also spends $30,000 dollars a month on luxurious wines that he then flies to his exact location—wherever in the world he may be at the moment—so that he can drink the vino at his pleasure.
But Depp recently brushed off the harsh assessments of his spending in a Wall Street Journal interview. "It's my money," he declared. "If I want to buy 15,000 cotton balls a day, it's my thing."
TMG agrees—it is Depp's thing. And so are the consequences.
"'Depp listened to no one, including TMG and his other advisors, and he demanded they fund a lifestyle that was extravagant and extreme,' writes attorney Michael Kump in the amended complaint filed Monday. 'Ultimately, Depp and/or his sister and personal manager, Elisa Christie Dembrowski, knowingly approved all of Depp's expenditures.'

Cited among the purchases are 14 residences, 45 luxury vehicles, 70 collectible guitars, and enough Hollywood memorabilia to fill 12 storage facilities."
G/O Media may get a commission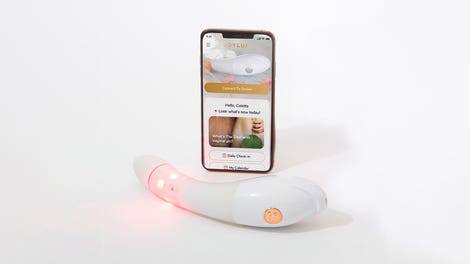 $50 Off
Joylux vFit Gold Device
Moreover, Depp spent hundreds of thousands of dollars to keep a sound engineer on a yearly retainer so that he no longer had to memorize his scripts. Instead, he wears an earpiece on set so that the engineer can supply him with his lines.
This extravagant behavior is allegedly coupled with lies and deceit. Depp purportedly lies to the public regularly, and did so in the case of the dog smuggling incident and when he was accused of physically abusing ex-wife Amber Heard. His "army of attorneys" regularly rescue him from legal imbroglios and have in some cases resorted to "hush money settlements." These details, TMG says, will be made public during the trial.
"Depp's 45-page complaint against TMGm which is replete with demonstrably false and fraudulent allegations, was filed solely to avoid the non-judicial foreclosure of his properties," wrote Kump, "and is just another example of Depp's pattern of habitual lies and deception designed to avoid responsibility for his actions."
Given Depp's actions, Kump writes in the new complaint that Depp should, as part of the proceedings, undergo a mental health evaluation:
"'Depp's extravagant spending has often been marked by a lack of impulse control,' writes Kump. 'In retrospect, it appears that Depp may suffer from compulsive spending disorder, which will be proven in this action through a mental examination of Depp...and expert testimony. On information and belief, Depp's flagrant bragging about his senseless and extreme spending to the Wall Street Journal is further evidence of his psychological issues.'"

Depp's lawyers have not yet issued a response to TMG's amended complaint. In any case, it's a gross situation from every angle.
[THR]
---