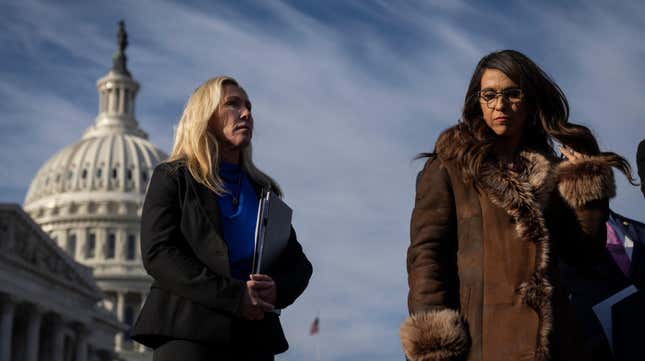 Update, 5:26 pm: Rep. Marjorie Taylor Greene (R-Ga.) issued a statement Thursday afternoon in response to her being ousted from the House Freedom Caucus. "In Congress, I serve Northwest Georgia first, and serve no group in Washington," she said. "My America First credentials, guided by my Christian faith, are forged in steel, seared into my character, and will never change." 
Previously:

Rep. Marjorie Taylor Greene (R-Ga.) is no longer a part of the ultra-conservative House Freedom Caucus. She was booted last month, Politico reported on Thursday, not because of her raging anti-semitism or covid denialism, but because she called fellow Freedom Caucus member Rep. Lauren Boebert (R-Colo.) a "little bitch" to her face on the House Floor.

"A vote was taken to remove Marjorie Taylor Greene from the House Freedom Caucus for some of the things she's done," Rep. Andy Harris (R-Md.) told Politico. Doesn't sound like a very free caucus to me!
In June, Greene reportedly called Boebert a bitch in front of their colleagues during a spat over the pair's dueling baseless measures to impeach Joe Biden. "I've donated to you, I've defended you. But you've been nothing but a little bitch to me," Greene said, according to The Daily Beast. "And you copied my articles of impeachment after I asked you to cosponsor them."
The Daily Beast printed their conversation:
"OK, Marjorie, we're through," Boebert then said, shrugging her shoulders.

With Boebert's back turned, ​​Greene responded: "We were never together."

Reached for comment about the exchange, Boebert didn't deny the back and forth.

"Marjorie is not my enemy. I came here to protect our children and their posterity. Joe Biden and the Democrats are destroying our country," she told The Daily Beast. "My priorities are to correct their bad policies and save America."

As for her part, when asked about their exchange, Greene told The Daily Beast: "Imitation is the greatest form of flattery."
Greene later confirmed that she called Boebert a bitch and added the word "nasty" in a statement. "She has genuinely been a nasty little bitch to me," the congresswoman told Semafor, adding that the pair would "absolutely not" reconcile.
These dummies have been fighting since December. They started the calendar year off at odds because Greene was supporting Rep. Kevin McCarthy (R-Calif.) for House Speaker. She kept up her support through all 15 rounds of voting, whereas Boebert was supporting literally anyone else. "You were OK taking millions of dollars from McCarthy but you refuse to vote for him for Speaker, Lauren?" Greene apparently asked Boebert, per the Daily Beast. The exchange ended with Boebert coopting a southern classic—"Don't be ugly"—and fleeing.
The "little bitch" conversations becoming public seemed to be the final straw for people who only care about decorum. "I think the way she referred to a fellow member was probably not the way we expect our members to refer to other fellow, especially female, members," Harris told Politico. "I think the straw that broke the camel's back was publicly saying things about another member in terms that no one should."
Now that Greene is out of Boebert's caucus, that's one place they can't run into each other. But if they're really want to avoid each other, one of them should help their next opponent out a bit!