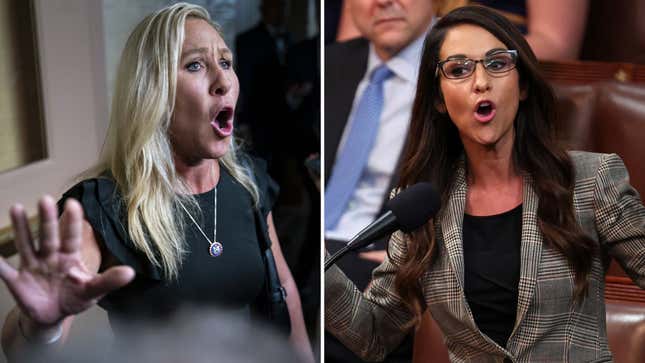 The year is, as of two weeks ago, 2023, which means in American politics, it's all about 2024—and top Republicans vying for the party's presidential nomination, or vice presidential nomination, are already staking their places.

Earlier this month, Reps. Lauren Boebert (R-CO) and Marjorie Taylor Greene (R-GA) clashed over Greene's support for Rep. Kevin McCarthy (R-CA) as he spent a desperate and embarrassing week trying to get enough votes to be elected Speaker of the House. (He finally succeeded after 15 rounds of voting.) Now, new details have emerged about the former far-right allies' feud inside the Capitol, where they reportedly had a fight in the Congressional bathroom over the vote.
"You were OK taking millions of dollars from McCarthy but you refuse to vote for him for Speaker, Lauren?" Greene reportedly told Boebert, per the Daily Beast. There aren't too many details about the confrontation—only that it ended with Boebert telling Greene, "don't be ugly" (lol), and fleeing the scene. Very mature, gals. For some extra color, the Daily Beast's source added that Boebert "ran out like a little schoolgirl."

"Greene questioned Boebert's loyalty to McCarthy, and after a few words were exchanged, Boebert stormed out," another source familiar with the situation told the outlet. Another point of contention is their loyalty to former President Trump: Greene endorsed Trump for 2024 almost immediately, while Boebert has yet to endorse a Republican presidential candidate, possibly leaving the door open for a figure like DeSantis.
One Congress member—Rep. Debbie Dingell (D-MI)—reportedly witnessed the fight happen but has been tight-lipped about what she did or didn't see. Through three separate interviews with the Daily Beast, Dingell ultimately emphasized that "what happens in the ladies room stays in the ladies room."
In any case, Greene and Boebert are far from the only top Republicans who are very publicly feuding, setting up for an inevitably contentious campaign trail in the coming months. Rep. Matt Gaetz (R-FL) spent all of the first week of January derailing McCarthy's path to the Speakership—there was nearly a fist-fight on the House floor. On Tuesday morning, one House Republican, Vern Buchanan (R-FL), instigated an expletive-filled confrontation with McCarthy upon being denied chair of the Ways and Means Committee: "You fucked me, I know it was you, you whipped against me," Buchanan reportedly shouted at McCarthy.
And earlier this month, South Dakota Gov. Kristi Noem (R)—a far-right, conservative firebrand—appeared to take her first shots at Florida Gov. Ron DeSantis (R), who's currently believed to be former President Trump's top rival for the nomination. Per a Tuesday report also from the Daily Beast, sources believe Noem is aiming for Trump's vice presidential pick.

Noem's spokesperson, Ian Fury, had fighting words for DeSantis in a series of statements provided to the conservative National Review defending against claims that she was soft on trans rights issues, by instead pivoting to emphasize her hard-line abortion stance. "Governor Noem was the only Governor in America on national television defending the Dobbs decision," Fury told the conservative outlet earlier this month. "Where was Governor DeSantis? Hiding behind a 15-week ban. Does he believe that 14-week-old babies don't have a right to live?"
According to Fury, DeSantis just isn't "pro-life" enough—a claim that every Floridian being denied abortion care after 15 weeks might contest. But in Noem's South Dakota post-Roe v. Wade, abortion has been totally banned except in cases when the pregnant person's life is endangered.
One Republican operative told the Daily Beast that Fury's comments on Noem's behalf are "a 2024 move," showing "that DeSantis is flimsier than people think he is." Other unnamed operatives told the outlet that Noem went after DeSantis with Trump's blessing. At the same time, a top Florida pollster told the Daily Beast that Noem isn't significant enough of a threat right now for DeSantis to fight back, advising that DeSantis simply ignore her. 
I'll be honest—even though these are the clowns who ended Roe and very well could strip away every other basic human right in this country, I'm having a decent time watching them tear each other to bits. If all the infighting even marginally slows them down from executing their horrendous agenda, I'll take that as a win.