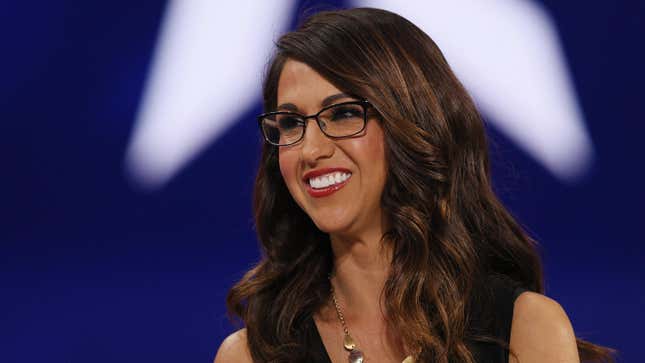 We've got more updates for you on Rep. Lauren Boebert's (R-Colo.) wild night out in Denver last weekend (I'm sorry and/or you're welcome). Additional security footage shows Boebert's previously unidentified date grope her as she appears to touch his crotch at a performance of Beetlejuice (shortly before they were ejected), and we've now learned who that lucky man is: Quinn Gallagher, the co-owner of Hooch Craft Cocktail Bar in Aspen.
According to the New York Post, Gallagher is a registered Democrat, and Hooch Craft Cocktail Bar is a gay-friendly bar that hosted "a winter Wonderland Burlesque & Drag Show" back in January, per an invitation advertising the event on social media. In 2020, the bar also hosted events for Aspen Gay Ski Week, according to Facebook posts unearthed by the Post. The tabloid reported that Boebert and Gallagher have been "dating under the radar for months."
Boebert announced in May that she had filed for divorce from her husband, Jayson, who once served jail time for exposing himself to teens at a bowling alley. (That lewd behavior was not related to their separation. In fact, she defended it in a 2022 memoir.) The far-right congresswoman dating across the political aisle would be scandalous enough on its own, but the added detail of Gallagher owning a bar that hosts drag shows is especially wild given Boebert's aggressive stance against the LGBTQ community. "Take your children to CHURCH, not drag bars," she wrote in a tweet last year. She's also spoken on the House floor about the need to ban books with references to LGBTQ identity in schools, calling them "offensive and very inappropriate."
Following the publication of security footage from the Buell Theater in Denver—which didn't just expose Boebert engaged in sexual acts during the family-friendly show, but also disproved her previous lies that she wasn't vaping—Boebert finally apologized in a Friday statement. She called the criticism of her behavior at the show "difficult and humbling" and said, "While none of my actions or words as a private citizen that night were intended to be malicious or meant to cause harm, the reality is they did and I regret that." She also cited her "public and difficult divorce," and said her behavior "simply fell short of her values." In a second apology on Sunday, she admitted that she was "maybe overly animated" at the show (that's one way to put it!), explaining that "I'm on the edge of a lot of things," according to the Guardian.
Over the weekend, many high-profile conservative women seemingly turned on the congresswoman. Ann Coulter called Boebert a "totally embarrassing bimbo"; MAGA attorney Jenna Ellis said Boebert's behavior was "embarrassing and disrespectful"; and Meghan McCain called her "trash," adding, "She lectures everyone about the LGBT community being a threat to children while getting caught performing a lewd sex act in a public theater where children possibly were."
After initial reports early last week that Boebert had been removed from the Beetlejuice show for being disruptive, Boebert tried to characterize herself as the one who was wronged: She was just having fun, her press team said, at a musical that's all about fun!! "It's true, I did thoroughly enjoy the AMAZING Beetlejuice at the Buell Theatre and I plead guilty to laughing and singing too loud! 🤭," she wrote in a tweet in the initial aftermath of reports of her removal.
Unfortunately for her, the Buell Theater had the receipts.