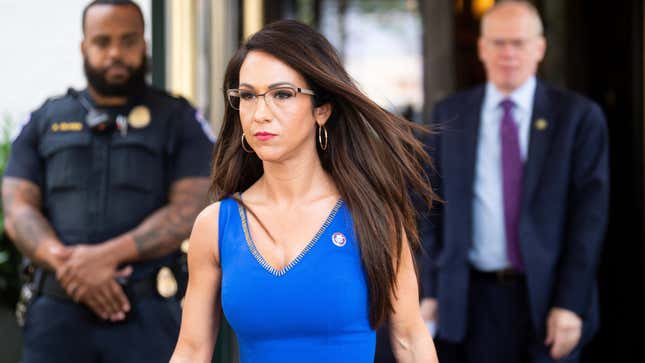 There's a new development in the story of Rep. Lauren Boebert (R-Colo.) being forcibly removed from a local performance of the musical Beetlejuice for causing a disturbance (read: reportedly vaping, singing, and recording long videos on her phone against theater policy), and it's a doozy. Apparently, one of the audience members seated directly behind Boebert at Sunday's show in Denver was a pregnant woman, the Denver Post reports. When the woman asked Boebert to stop vaping, she said the Congresswoman told her "no" point-blank.

The woman, who asked to remain anonymous, told the Post that at intermission, she went to the usher to see if she and her husband could be moved to different seats. They were told they were "not the first complaint we had" about Boebert's behavior. Upon returning to their seats, the woman says Boebert, an elected official, called her a "sad and miserable person." Boebert's companion—whom she apparently spent much of the evening kissing—then "offered to buy me and my husband cocktails. I'm pregnant!" the woman said.
The woman claimed she didn't even realize it was Boebert who was seated in front of her until later in the show, only that Boebert and her companion were remarkably rude. "These people in front of us were outrageous. I've never seen anyone act like that before," she said.
Shortly after intermission, Boebert and her companion were removed, though they apparently put up quite a fuss, involving the Congresswoman doling out the tried and true, "do you know who I am?" strategy à la Ted Cruz. At one point the police were called, adding this incident to a long list of Boebert's varying run-ins with law enforcement. (Her campaign manager said in a statement that Boebert, "to the dismay of a select few," was "enthusiastically" enjoying the show and that she denied vaping during it.)
Boebert's seeming disregard for the health of a pregnant person—let alone a pregnant person's Beetlejuice viewing experience!!!—is actually very "pro-life" behavior, mind you. That is, to the extent that anti-abortion lawmakers like Boebert care about almost nothing in the world less than they do the well-being of pregnant people.