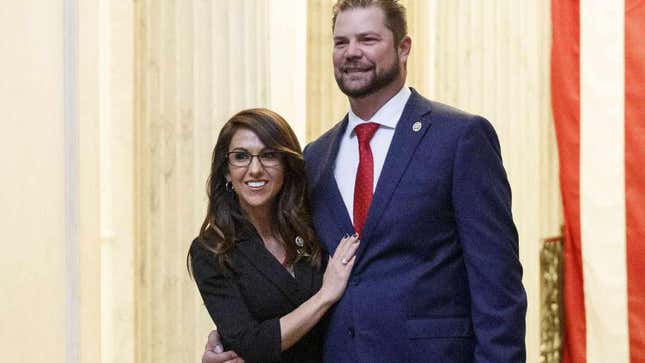 Congresswoman Lauren Boebert (R-Co.) announced on Tuesday that she's filed for divorce from her husband of 17 years, Jayson Boebert—and it all sounds fairly messy.
Megan Rapinoe Uses Media Time to Discuss "Cruel" SCOTUS Ruling
Boebert's statement on the matter offers little insight into why the couple is splitting, beyond alluding to "irreconcilable differences" and denying infidelity on her part. But The Colorado Sun reports that when Jayson was served divorce papers on April 25, he "was extremely angry," according to court documents obtained by the newspaper. "I tried to hand him the documents but [he] did not take them. He started yelling and using profanities, and told me that I was trespassing, and that he was calling the Sheriff's Office," the process server who served Jayson said, per the court documents, also obtained by the Daily Beast. "I told him I was leaving the documents on the chair outside of the door, he closed the door then let the dogs out." The process server claimed Jayson was drinking beer and cleaning his gun when being served.
Speaking to the Daily Beast about his reaction to being served, Jayson denied threatening the process server and said he "did not know what I was being served for or if it was some crazy left wing person coming to my house again." He also denied the process server's claims that he was drinking while cleaning his gun.
"The divorce is sad, I did not expect this, I love her with every bit of my heart, she has been my soul mate and she is the mother of my Children," Jayson said. "We have been through a lot together and I just want her to be happy." He concluded: "So it's what ever she wants."
Boebert has also responded to the process server's claims about Jayson in court documents, telling Jezebel in a statement shared on Wednesday afternoon that "Jayson, a man I spent half of my life with, did not sign up to be in the public limelight, and he certainly did not agree to be falsely accused of things he didn't do."
"The stories reported about the process server, and even Jayson running over a mailbox are a complete lie. Jayson doesn't sit around cleaning guns, and he certainly doesn't drink beer out of a glass, just as much as he doesn't drink Bud Light," Boebert continued. "Our own home security footage shows he didn't 'sick [sic] dogs' on the process server. The dogs were outside when the server pulled up, they never showed aggression toward him, nor did he appear afraid of them."
The congresswoman said her divorce "is a private matter, but the misrepresentations must be addressed," and "Jayson deserves his privacy, not slanderous stories."
In Boebert's statement announcing her divorce this week, she expressed gratitude "for our years of marriage together and for our beautiful children, all of whom deserve privacy and love as we work through this process." Boebert continued, "I've always been faithful in my marriage, and I believe strongly in marriage, which makes this announcement that much more difficult. This is truly about irreconcilable differences."
It's a fairly cryptic, standard divorce statement, but based on Jayson's reaction to being served and his comments to the Daily Beast, it hardly sounds like their separation is a mutual decision.
Boebert filed for divorce in county court on April 25 and requested parental support and decision-making power over her and Jayson's four sons. She's discussed her marriage at length in her memoir published last year, including addressing the incident in 2004 when Jayson was arrested for and pleaded guilty to public indecency and lewd exposure after allegedly exposing himself to two girls at a bowling alley. Boebert expressed that she was proud of Jayson, because he "needed the alcohol and anger management classes that came with the plea deal."
This, of course, wasn't the couple's only run-in with law enforcement. The same year as the bowling alley incident which had prompted Boebert to suggest in her memoir that Jayson needed the "anger management classes," she and Jayson were arrested for separate incidents of alleged abuse toward each other. Jayson was arrested for a domestic violence charge a month after the bowling alley incident, and Boebert faced third-degree assault, criminal mischief, and underage drinking charges a few months later. More recently, last summer, Jayson had the cops called on him by the couple's neighbors, who accused him of threatening them and running over their mailbox while drunk.
Jayson and Boebert's divorce comes at a distinctly busy time for their family. The eldest of their four sons, 18, is expecting a child with his girlfriend, Boebert announced in March. Boebert, mind you, is a Bible-thumping Congresswoman who insists that everyone who can't live up to the right-wing family values that she can't seem to uphold, herself, should be punished. Don't mind me as I make myself some popcorn while watching the chaos unfold around her.