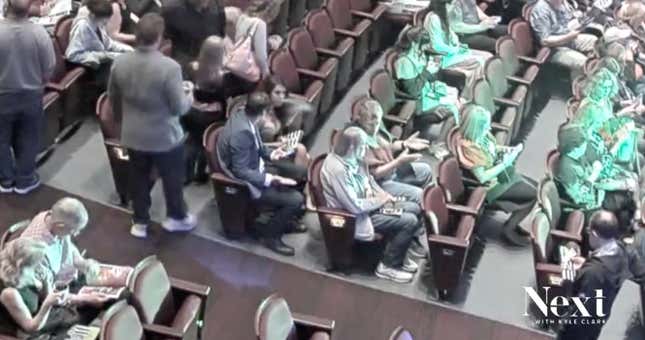 Earlier this week, Rep. Lauren Boebert (R-Colo.) was kicked out of a performance of Beetlejuice in Denver for disruptive behavior, including dancing too much, vaping, recording the performance, and being generally rude. Since that revelation, the Congresswoman has attempted to reclaim the narrative. She was just having fun, her press team said, at a musical that's all about fun, no less! And she absolutely, positively was not vaping, her team assured us. Any vapor appearing to come forth from her being was naught but steam from a fog machine used in the show, they insisted.

As it turns out, that was a lie—truly, I'll never understand being so boldly dishonest in the era of video tape, but alas, the Congresswoman isn't exactly known for her critical thinking skills. On Thursday evening, local station 9News shared footage of Boebert in the audience. You can quite literally see Boebert vaping, just as you can see a pregnant woman behind her, bathed in the residue of said vaping, politely ask the Congresswoman to stop. Spoiler alert: She doesn't.
Also caught on tape is Boebert's general disruptiveness—taking photos with flash, boisterous dancing, standing and clapping. At one point, her male companion appears to "grasp" her, ahem, per 9News' lively commentary. The surveillance also shows the moment, after intermission, when an usher arrives to tell Boebert she has to leave. According to reports, Boebert made quite a fuss on her way out, predictably asking theater staff, "Do you know who I am?" Yes, you're the wildly inconsiderate lady who was vaping and taping at a live musical performance!! Police were ultimately called, which is nothing new for Boebert, and she and her date (?) eventually left.
The new video comes after the Denver Post reported that Boebert called the pregnant woman behind her a "sad and miserable person," and that Boebert's companion offered to buy the pregnant woman a cocktail. Hmm!
Of course, we hear about none of this in Boebert's version of events. "It's true, I did thoroughly enjoy the AMAZING Beetlejuice at the Buell Theatre and I plead guilty to laughing and singing too loud! 🤭," she wrote on Twitter earlier this week, adding, "Everyone should go see it if you get the chance this week and please let me know how it ends! 😅"
Boebert has yet to comment on the new footage, nor has she explained how any of the vapor emitted from her person could be coming from fog machines when there appear to be none in her vicinity. In any case, here's hoping this is the last update on this general masterclass on how to be the biggest asshole in a public space.