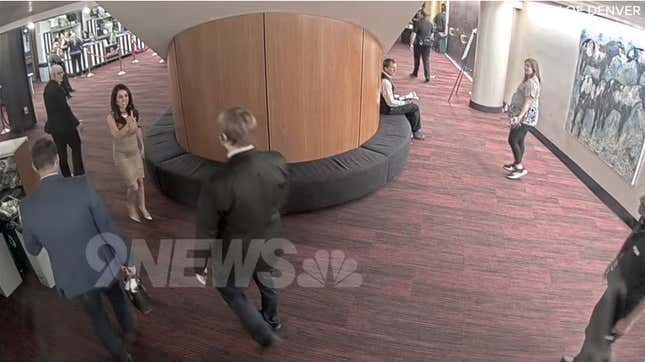 Rep. Lauren Boebert (R-Colo.) had to be escorted out of a performance of the Beetlejuice musical because she was reportedly vaping, singing, and otherwise "causing a disturbance" during the Sunday evening show in Denver.
The Denver Post reports that theater staff warned the 36-year-old grandmother and her guest during intermission of the touring Broadway show that three other attendees had complained about their behavior. They continued bothering other theatergoers and refused to leave on their own, so the venue called Denver Police.
The incident report doesn't name Boebert, but her campaign manager Drew Sexton confirmed that it was her. He said in a statement that the Congresswoman was merely "enthusiastically" enjoying the show, and said she denied vaping during the performance, but did take a cellphone photo and claimed she didn't know that wasn't allowed.
Per the incident report, the theater received another complaint about Boebert and her guest about five minutes into the second act for being loud and recording the show. "I told them that they need to leave the theater and if they do not, they will be trespassing. The patrons said they would not leave," an usher is quoted as saying in the report. "I told them I would (be) going to get Denver Police. They said go get them."
After Boebert and her guest were escorted out of the performance space, they resisted leaving and, according to the report, said "stuff like 'do you know who I am,' 'I am on the board' (and) 'I will be contacting the mayor.'" Police stayed in the lobby until the pair left.
Denver Arts & Venues released footage to an NBC affiliate that shows security guards escorting Boebert and her male guest, who appears to be carrying her purse, out of the theater. About 2 minutes and 10 seconds in, Boebert turns around to wag a self-important finger at one of the guards as they reach the lobby.
Boebert is not the first politician to invoke "do you know who I am?" at people just trying to do their jobs. In March 2022, Sen. Ted Cruz (R-Texas) yelled it at workers at an airport in Bozeman, Montana, after he missed his flight check-in. He needed to get back to Washington, D.C. for a hearing so he could ask then-Supreme Court nominee Ketanji Brown Jackson if babies are racist, you see. Very important stuff. The police also had to be summoned.
This is also not the first time people have had to call the cops on Boebert and her associates. In 2004, her then-boyfriend and now-ex husband Jayson Boebert allegedly exposed himself to a teenager and another woman at a bowling alley. The owners called the cops, and Lauren was there for the whole thing. Later that year, Boebert and Jayson were both arrested in separate incidents of alleged domestic violence toward each other. Most recently, one of Boebert's sons called the cops in December to report his dad for abuse. Jayson seems to be the common link in these past incidents, but judging by the video, it doesn't appear that he was her guest at the musical on Sunday night. Lauren can do bad all by herself.
Boebert won re-election by just 546 votes in 2022 and is seeking her third term in office.