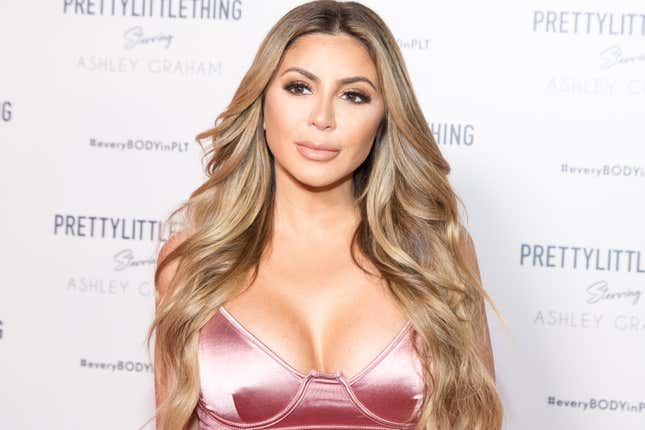 Basically anytime Larsa Pippen steps out, she steps into something. Probably because the former Real Housewives star seems incapable of wearing a mask or in any way acknowledging that there's a pandemic going on.
This time, she's drawn the ire of PETA, whose associate director of captive animal law enforcement has called on the the United States government to investigate Pippen's visit to Doc Antle's Myrtle Beach Safari earlier this month, where she and her children swam with tigers. In the letter, obtained by TMZ, the associate director claims that the United States Department of Agriculture has done nothing to stop Antle—one of many characters in the Netflix doc Tiger King—from allowing celebs like Pippen and other members of the public from having "direct physical contact with big cats."
Behold said physical contact:
PETA also suggested that Pippen and her children may have put the tigers at risk of contracting covid by being in such close contact. (According to the Centers for Disease Control and Prevention, the virus can transmit from human to animal in "some situations.")
Antle, who, in October, was charged with two felony counts related to wildlife trafficking and more than a dozen misdemeanors for alleged violations of the Endangered Species Act, insisted that Pippen had merely toured the facility: The photos Pippen posted were from a PSA she shot calling for wild tiger conservation, he said.
Pippen, to my knowledge, has yet to comment on the eminently avoidable kerfuffle. I assume she's planning her next maskless outing.
---
Just another day in the life of Elizabeth Hurley (seriously!):
---
Trey Songz has been arrested after reportedly punching a police officer and putting him in a headlock at Sunday's AFC Championship (football!) game. Apparently the singer got into this scuffle after he refused to wear a mask. [TMZ]

Kanye West is back in LA following his reported split with Kim Kardashian. A source told Page Six that West is "OK with" the divorce. But I suppose we won't know for sure until we watch the final season of Keeping Up With the Kardashians, which a different source says features Kim talking about their marital difficulties. Funny how it always seems to work out that way...[Page Six]
"It wasn't even to get the best table it was just to get a reservation but yeah I did that," Dakota Johnson told Drew Barrymore, when asked if it's true that she uses George Clooney's name to get in at restaurants. She says he's fine with it! [Daily Mail]