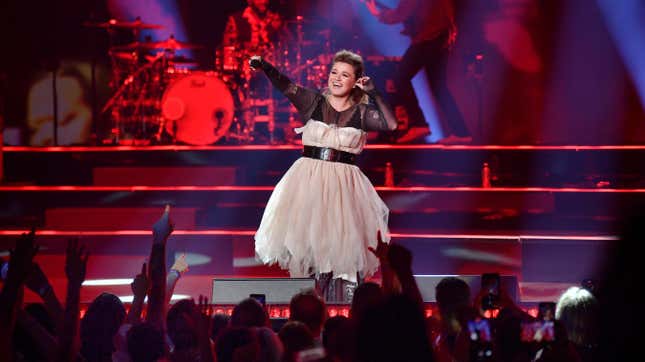 Kelly Clarkson is just like (some of) us: She likes dick and is also upset about liking it.
Alison Brie on Sex Scenes: 'We Are Actors, This Is Our Job'
Over the weekend, the singer and talk show host kicked off her new Las Vegas residency at Planet Hollywood, "Chemistry: An Intimate Evening with Kelly Clarkson." The show follows her well-received divorce album of the same name, which was inspired by her rocky divorce proceedings with ex-husband Brandon Blackstock. And while you might assume critical acclaim would be treat enough, it seems Clarkson's fanbase had a few other treats in store for her.

During her debut show Friday night, the 41-year-old can be seen stopping between songs to take note of a sign held by a woman in the crowd, which read: "My girlfriend gave me a hall pass for you." In response, Clarkson quipped, "If I was into chicks, I'd take up the offer," then added, "I just unfortunately like dicks."
Honestly, Clarkson telling a queer person in the crowd that her attraction to men is unfortunate feels very relatable right now. I also feel like I did not choose this life of straight men with dicks, and if I could have it any other way, I would—especially considering the wasteland that is the straight dating apps these days.

I think it's clear that should post-divorce Kelly Clarkson—who credits Lexapro for getting her through her painful split from ex-husband Brandon Blackstock—ever want to give any flavor of queerness a try, the community would welcome her with open arms (especially this thirsty commenter on Twitter, who wrote, "Kelly, I'm sure we can work out a mutually satisfying situation"). To see her follow in the footsteps of celebrity women formerly with men Becca Tilley, Glennon Doyle, and (maybe, allegedly) Kyle Richards would be a damn pleasure.

In the meantime, thanks to Kelly for giving the shes, gays, and theys the representation we've been searching for: people who have a hard time admitting we love dick.