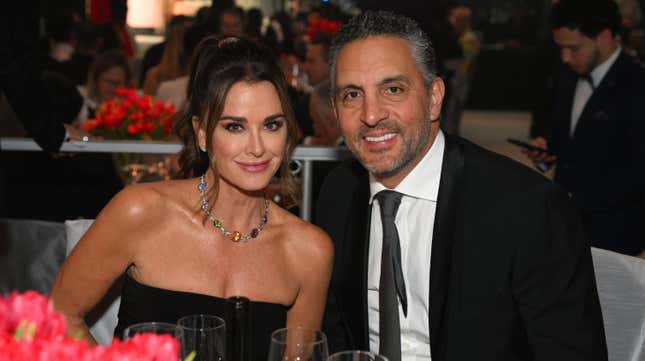 For fans of the Real Housewives of Beverly Hills franchise, which filmed its 13th season this year, Kyle Richards and Mauricio Umansky were like a warm hug of a couple: They had been married since 1996, were one of the surest things across all of Bravo's Housewives franchises, and together, they'd built an empire of real estate, multiple reality shows, and a family that seems to genuinely love each other. But over the last few days, something appears to be on the rocks…and for once, it's not just the housewives' margaritas.

Heather Dubrow Says She Felt 'Blindsided' By This Season of 'Real Housewives of Orange County'
On Monday evening, People shocked (some of) the Bravo-verse by exclusively reporting that after 27 years of marriage, Richards and Umansky had separated. And not only that, but the couple reportedly had already been separated for a while, though they are still living under the same roof. "They remain amicable as they figure out what's next for them and their family," a source noted.

The following day, Richards followed up with a bleak-looking text-only Instagram post claiming any rumors of divorce were untrue. She did admit, however, that this year had marked one of the toughest of their marriage, and that they were working through some issues. On the Fourth of July, the couple posted pictures of their family as if nothing was wrong.

There are two eyebrow-raising things to note here, however. On a RHOBH episode 13 years ago, a medium predicted the divorce (thank you for the content, Allison DuBois!). And now, Page Six has reported that fans are convinced that Kyle has been getting cozy with country singer Morgan Wade, spotting what they believe are matching rings and highlighting a number of Instagram selfies that you only take with someone you're very, very close to.

Whatever the hell is going on, it appears that this story is very much still unfolding. And if it's true, it would be a genuinely sad breakup, but I'm also fully in support of Kyle potentially, allegedly exploring her sexuality later in life. Allegedly!!!!
---