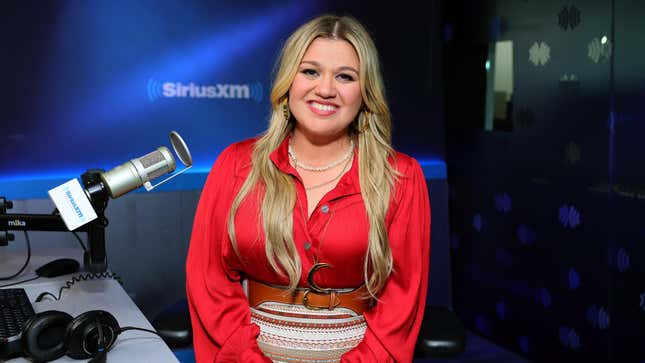 Calling all antidepressant-dependent girls: Kelly Clarkson is—now, say it with me—one of us, one of us! On the Las Culturistas podcast Wednesday, the 41-year-old singer told hosts Matt Rogers and Bowen Yang that she "wouldn't have made it" through her divorce from ex-husband Brandon Blackstock without Lexapro.
JoJo Says 'There's Definitely Parallels' Between Her and Moulin Rouge's Satine
"I looked at my therapist, and I just couldn't stop sobbing, and I was like, 'I actually had to cancel some of the other day because I couldn't stop crying. I cannot do this,'" Clarkson said of the day she was prescribed the SSRI. "And it was one of those things where I really had to put my pride aside and, like, all my childhood issues of whatever."

Clarkson told the hosts she was on Lexapro for two months during the divorce process. She first filed for divorce from Blackstock, who was also a producer and executive on The Kelly Clarkson Show, in June 2020 following seven years of marriage. The couple, who share 9-year-old daughter River Rose and 7-year-old son Remington Alexander, settled their proceedings in March 2022. Clarkson released her latest studio album Chemistry this month to chronicle the emotions she felt during the breakup.
"My thing was, I just can't smile anymore for America right now," she said of her hosting duties at the time. "I'm not happy, and I need help…and [getting on Lexapro] was honest to God, the greatest decision ever. I wouldn't have made it [without it]."

"I don't know how people get through anything like that because I'm not going to say I did it gracefully. Behind closed doors by myself, it was not," she continued.

As a longtime Celexa and Zoloft user, I love when celebrities get honest about their mental health and de-stigmatize antidepressants. Going through a breakup at any stage in life can be a monumental, earth-shattering event, and I'm glad Clarkson was able to get the help she needed.