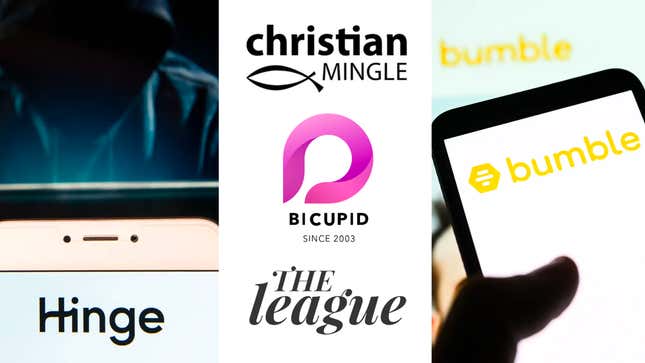 If there's one thing I'm sure of in this world, it is this: There is no hellscape quite as depressing as that of online dating. Stuffed to the brim with Elon Musk wannabes, emotionally unavailable people masquerading as ethical non-monogamists, right-wingers labeling themselves "moderate," and finance bros who claim self-awareness while earnestly outfitted in matching Patagucci puffer vests—trying to extract a loving potential partner from the dating scene is like trying to un-red pill Andrew Tate apologists. It's impossible.

But like the Good Samaritans we are, and as an act of pure community service, we the brave and daring single staff writers of Jezebel dot com embarked on a journey into the bottomless pit of horny singles in New York City. Did we secure any successful dates in which we soared in the indigo night sky of a new crush's eyes? No. Did we go consensually to Pound Town, where all our desires and sexual fantasies were fulfilled for one night only? Also no. Did we fuel our own anxieties-slash-dreams that we would die old childless spinsters (non-derogatory) in a cottage on the edge of the woods? Hell yeah, brother.

Whether you're looking to bag a TikTok-viral amateur DJ or an investment banker still obsessed with his alma mater, perhaps an earnest little guy or a fun date courtesy of BiCupid, we've got an app that's not Tinder for you. Click through the slideshow for our reviews!