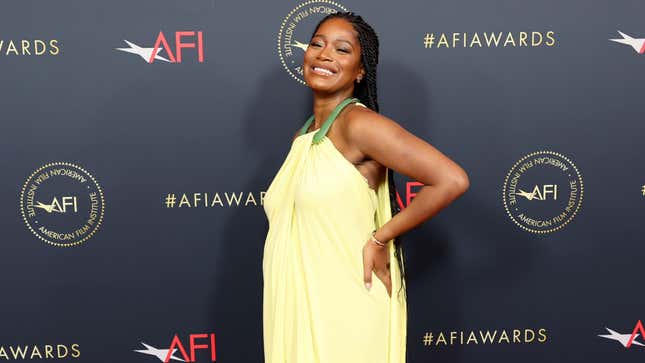 As a childless person who has heard about many a pregnancy horror secondhand, pregnancy being pleasantly uneventful—let alone fun—sounds a mythical holy grail. But Keke Palmer may have found it. From her legendary pregnancy reveal on Saturday Night Live in December to her hilarious, drama-filled Sims 4 streaming escapades the past few weeks, Palmer has made it clear that she is thriving. "I feel the most powerful than I have ever felt being pregnant," she told E! News in an interview published Tuesday. "I feel like, 'Yo, I could do anything.' It gives you this Superwoman-type of strength."

Palmer's bare-bellied SNL performance may or may not have inspired Rihanna's similarly iconic pregnancy reveal during her Super Bowl performance, but regardless of her influence, Palmer is excited that women are embracing their pregnancies and showing them off mid-career. "I'm just so happy to see what we're seeing with all of us women out here, work and doing our thing—and being pregnant," she told E! of Rihanna. "I think sometimes people treat pregnancy like it's a disease, like [sheepishly] 'I got pregnant.'"
"You don't have to feel like you're walking on eggshells," she said in a recent Vanity Fair interview.

There are, of course, many reasons why being pregnant in the United States can cause anxiety and fear, but Palmer has become, however inadvertently, an exemplar of how wonderful a wanted pregnancy can be.
"Whatever that damn baby is doing to me, whatever that baby is giving to me, it has balanced me, y'all!" she told Las Culturistas hosts Matt Rogers and Bowen Yang during an appearance on their show last month. Palmer, in her signature effervescence, also said that pregnancy has fixed her acne issues: "The baby is retinol! The baby is my fucking Acutane!"
Given our country's fraught reproductive landscape, which disproportionately affects Black women—with new research revealing that even wealthy Black women are more likely to die during childbirth than low-income white women—it feels like a breath of fresh air to see Black women publicly experience unabashed happiness during their pregnancies.
But Palmer—who has experimented with The Sims 4's childbirth simulator, like a true gamer—told E! that she thinks the best is yet to come: "I've been happy in my life before, but it's quite different, the joy of knowing that you built something with someone, you created something, and you're gonna get to actually meet that creation—that progression is going to live and be in this world."