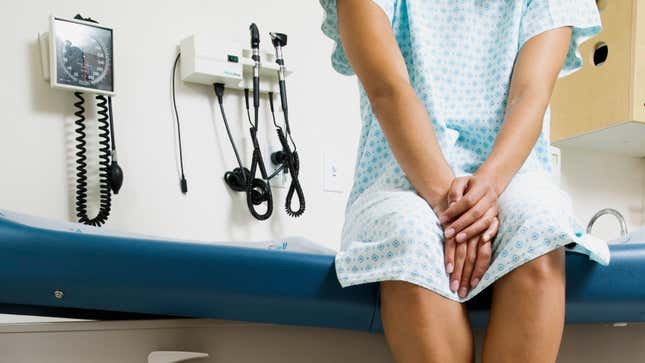 If a pregnant woman shows up to an emergency room bleeding heavily, a healthcare provider or social worker might report her to the cops if they suspect she self-managed her abortion. This is legal, though a growing group of advocates stress it's unethical.
After the Supreme Court overturned Roe v. Wade, the risk of pregnancy criminalization has spiked. People may think the Health Insurance Portability and Accountability Act (HIPAA) would protect their private medical information, but the law's privacy rule has a loophole that allows healthcare workers to share information with law enforcement when they believe a crime has been committed, or when they receive a warrant or subpoena. (Caitlin Bernard, the Indiana OB/GYN who cared for a 10-year-old rape survivor, is suing to stop the state Attorney General's subpoena seeking the girl's medical records.)
Now, advocates and lawmakers are calling for the Biden administration to fix HIPAA's privacy loophole. Sens. Mazie Hirono (D-HI) and Michael Bennet (D-Colo.) introduced a bill Thursday that would strengthen HIPAA to ban medical providers from disclosing information on abortion or pregnancy loss without patients' consent in a court proceeding. It's called the Secure Access for Essential Reproductive (SAFER) Health Act, and it would also require the Department of Health and Human Services to conduct a national education campaign for healthcare workers. The bill stops short of banning providers from sharing this information with law enforcement and instead focuses on hampering prosecutions.
The loophole is not a hypothetical risk, as healthcare workers already reported their patients to law enforcement while Roe was still on the books. The non-profit Pregnancy Justice notes that there were more than 1,300 arrests for suspicion of drug use or self-managed abortion or pregnancy loss between 2006 to 2020 alone. An August 2022 report from If/When/How found that, in 61 cases where adults were investigated for pregnancy outcomes, 45 percent were reported to law enforcement by care professionals, including doctors, nurses, and social workers.
When patients don't trust their providers, there's a chilling effect on reproductive care, said Jamila Perritt, president and CEO of Physicians for Reproductive Health, one of several reproductive rights groups to endorse the SAFER Health Act. "When we force healthcare providers to act as arms or agents of the state, it keeps people from getting care," Perritt told Jezebel. "It is creating a dynamic—or worsening a dynamic, depending on who you speak to—that prevents people from seeking care out of fear."
Perritt, who's an OB/GYN and an abortion provider, said patient fears don't only apply to self-managed abortion—people who are miscarrying may not call their doctor and may even avoid seeking care at an emergency room if they believe someone might be suspicious of them and report them to the police. Pregnant people who use drugs may be afraid to get care for miscarriage or stillbirths because of arrests following non-consensual drug testing.
Just getting investigated or arrested causes harm, even if the charges are later dropped. "There is the generally and widely held belief that mandatory reporting in and of itself is innocuous if there is nothing to find," she said. "We know from decades of anecdotes and evidence, that that's just simply not the case: It causes a lot of harm."
Perritt said there's already a lack of trust between Black and brown patients and their providers because of the "deep, complicated, horrific history" of reproductive healthcare in the U.S. and the HIPAA privacy loophole needs to be closed in order to help repair that lack of trust.
"We're asking for medical spaces to be safe for the people that we care for, and we know that they are often sites of criminalization," Perritt said. "[Sharing reproductive information with law enforcement] is misaligned with the oath that we took to do everything we can to keep our patients safe."
Evangel Penumaka, polling principal and research director at Data for Progress, told Jezebel that many people don't know about the criminalization risk, but "as people are given more information, it's important to see that concern does rise." A December DFP poll asked likely voters how worried they'd be about sharing medical information while seeking reproductive care now that Roe is gone, and 33 percent of women and 47 percent people under 45 said they were either very concerned or somewhat concerned.
The next question explained the privacy rule loophole and how providers may have to turn medical records over to law enforcement, then they asked people to rate their level of concern again. DFP found increases of eight and 10 points, respectively, with 41 percent of women and 53 percent of people under 45 saying they'd be concerned.
Finally, the poll asked whether people would feel comfortable sharing complete information while seeking reproductive care and 20 percent of women and 30 percent of people under 45 said they would not. In an ideal world, those numbers "should be zero," Penumaka said. "Our administration really needs to take the responsibility to push the bounds on whatever can be done to ensure that anyone can seek this care without fearing criminalization."
Hirono said in a statement about the SAFER Health Act that "MAGA Republicans in states with abortion bans have made it very clear they want to prosecute women for seeking reproductive health care. One way they plan to do that is by weaponizing patients' reproductive health information.... If you get an abortion or experience pregnancy loss, you deserve to know that your medical records will remain private, unless you say otherwise."
The bill has 9 additional Senate co-sponsors. Multiple reproductive health and rights groups have endorsed the legislation, including the American College of Obstetricians and Gynecologists, NARAL Pro-Choice America, National Partnership for Women and Families, Physicians for Reproductive Health, Planned Parenthood Federation of America, Stanford Health Care, and URGE: Unite for Reproductive and Gender Equity.
It's possible that a bill like this could command a majority in the Senate, but is unlikely to meet the 60-vote filibuster threshold, and it's dead on arrival in the Republican-controlled House. Still, stronger privacy protections are overwhelmingly popular. Eighty percent of likely voters in a July DFP poll said they supported stronger enforcement of privacy laws when it comes to reproductive health records—and that includes 73 percent of Republicans and 76 percent of Independents. And 63 percent of voters said they supported updating the HIPAA privacy rule, including majorities of Republicans and Independents.
"Our polling broadly shows that voters really are supportive of these measures to protect abortion access," Penumaka said. "It's really in the hands of the administration at this point to do whatever can be done."