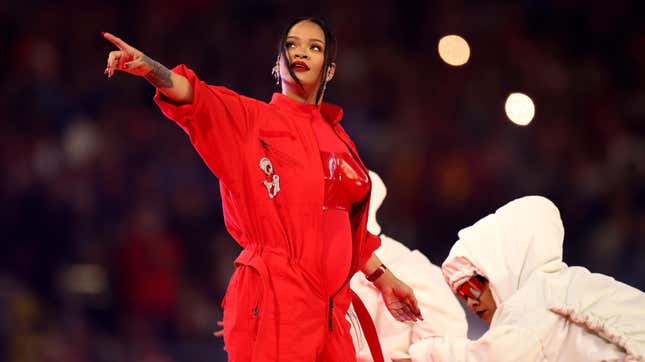 For those of you who aren't brain-poisoned enough to care about what happens on the football field this Sunday night, unlike me, Super Bowl LVII will go down in history books both as a stunning Rihanna concert. The internet immediately became convinced that the performance may have doubled as a surprise announcement that she and A$AP Rocky are expecting their second child—as Rihanna appeared to spotlight her belly and rub it several times throughout the performance—and they were spot on. Rihanna's team confirmed the news to People Sunday night, making this both a historic performance and a historic pregnancy announcement. Please note that Rihanna is just nine months postpartum and pulled off a 13-minute vocal performance...all while pregnant.

Taylor Lautner Doesn't Even Remember Saying 'Bella! Where the Hell Have You Been Loca?'
It's been seven years since Rihanna stepped foot on stage, and other than a single she put out for Black Panther: Wakanda Forever in October, it's also been seven years since she put out her last album, Anti. Despite fans begging (and screaming and crying) for new music for years, Rihanna is also unfortunately aware that between Savage x Fenty and Fenty Beauty, she is a thriving billionaire who quite literally never needs to make music again. Lucky for us, either her bursting passion for live performance or her thirst for more revenue has gifted us this moment in time in which the reigning queen of R&B—and pop and ballads, etc!—who provided the soundtrack to the early aughts for millennials growing up is once again taking the stage. It happens to be the biggest stage in the world. (And she found a minute to hype Fenty because, of course.)

After much speculation about how Rihanna would open the show and a decadent promotional rollout that included an ad in which the singer looked like Martha May Whovier from The Grinch, she started the show in an all-red jumpsuit and bustier with "Bitch Better Have My Money." If there was any doubt why she took this gig, well, that's settled.

Rihanna had previously promised "a jam-packed show," one so time-consuming that she told the AP she almost forgot her upcoming birthday and Valentine's Day. And boy, did she deliver. She really said, "I'm too good for this turf, gonna take to the sky," and let her little Michelin marshmallow dancers kill it below. She gave us stank face. She gave us crotch grabs. She gave us "strip clubs and dollar bills." She gave us dozens of male dancers humping the stage, performing stripper moves, and twerking upside down in the middle splits. She sent a big middle finger to the NFL and its Hays code-like purity standards by performing "Pour It Up," "Rude Boy," "Cake," and "Wild Thoughts." Hit after hit after hit, she gave us exactly what she promised: a high-octane, fun-ass ride through her discography.
The performance would've been remarkable from an entertainment perspective alone. But the fact that she did it pregnant...and may be the first-ever pregnant Super Bowl halftime performer? Leave it to Rihanna to make history in more ways than one.
"The setlist was the biggest challenge. That was the hardest, hardest part. Deciding how to maximize 13 minutes but also celebrate—that's what this show is going to be. It's going to be a celebration of my catalog in the best way that we could have put it together," she said.
The show was choreographed by New Zealand choreographer Parris Goebel, a frequent collaborator of Rihanna's who has been involved with her annual Savage x Fenty fashion shows.

Of course, I'd be remiss not to mention the hypocrisy of Rihanna performing this year, given that in 2019, she told Vogue that she "absolutely" turned down the opportunity to do the Super Bowl halftime show at the time in support of Colin Kaepernick. "I couldn't dare do that," she said of the 2018 opportunity. "For what? Who gains from that? Not my people. I just couldn't be a sellout. I couldn't be an enabler. There's things within that organization that I do not agree with at all, and I was not about to go and be of service to them in any way." Now, she's got a $76 Fenty Super Bowl makeup pack! But, as she told the AP, she feels "like [taking on the halftime show] could have only been now."

Talk about "We Found Love in a Hopeless Place." I think I found love at a venue as depraved as the Super Bowl.