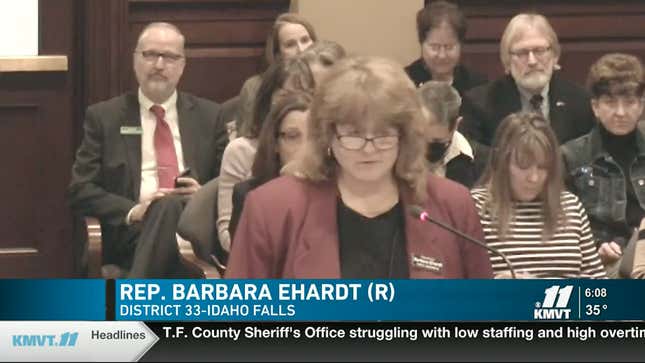 Update March 7, 2023: Idaho House lawmakers on Tuesday passed HB 242, a bill that would criminalize people who help minors access abortion out of state. The bill doesn't have a true exception for parents who give permission as they can only use that as an "affirmative defense" if prosecuted. HB 242 doesn't alter the definition of human trafficking in the same way as a proposal we wrote about previously, HB 98. The bill now goes to the state Senate.
Original story from February 8, 2023, follows:
Abortion is almost totally banned in Idaho except for cases of reported rape or incest, or doctors' discretion to save the pregnant person's life. But that apparently isn't enough for state lawmakers, because on Tuesday they introduced a bill that would make it harder for young people to get abortions in other states.
State Rep. Barbara Ehardt (R) introduced House Bill 98, which would amend both the state's abortion ban and its human trafficking code to make it illegal for anyone to help a pregnant person under 18 get an out-of-state abortion without the consent of a parent or legal guardian. The bill would also make it a crime for anyone to provide "abortion-inducing drugs" (aka abortion pills) to a pregnant minor in the state without parental consent. If it were to pass, this bill could mean sending people's aunts, grandmothers, or trusted friends to prison for two to five years.
And finally, the bill would give Idaho Attorney General Raúl Labrador (R) the authority and "sole discretion" to prosecute people who violate either the state's human trafficking or abortion law if a county prosecutor refuses to bring charges.
Laws mandating parental involvement in abortion are nothing new, but this bill is an escalation. Rebecca Gibron, CEO of Planned Parenthood Great Northwest, Hawai'i, Indiana, Kentucky, said in a statement that "preventing people—including minors—from accessing abortion is dangerous and irresponsible. I can't think of anything more cruel than a state forcing a child to remain pregnant and punishing people who try to help them. Shame on these lawmakers. All Idahoans should be paying attention to this extreme attempt at government overreach to control our movements in and out of the state of Idaho."
Of teens traveling out of state, Ehardt said: "It is something that unfortunately is happening, and I don't think any of us want to see our minors, not only trafficked, but in this situation."
Ehardt's comparison to human trafficking ignores the very obvious fact that while some young people can involve their parents in conversations about abortion, many cannot—because their parents are religious, controlling, violent, or all of the above. Gibron underscored this point in an interview with news station KTVB, saying that "most young people do involve their parents in a decision like this. We are talking about young people who are in extreme circumstance who cannot involve their parents."
It's not legal to ban travel from one state to another, but lawmakers and judges can do all kinds of things under the guise of parental consent—take the recent ruling limiting Texas teens' ability to get birth control from federally funded clinics.

Similar things are happening with legislation that targets transgender people. State lawmakers initially focused on bills banning transition care for minors, but they have recently targeted care for adults as well. Heron Greenesmith and Amy Littlefield wrote about the two movements' overlapping tactics in The Nation: "State legislators are deploying a familiar legal strategy. First, the anti-trans bills have targeted minors, using the framework of 'parental rights,' or claims about protecting children, just as anti-abortion activists did with parental consent laws for abortion beginning decades ago."
And one right-winger gave away the game in a recent interview with the New York Times:

And Mr. [Terry] Schilling, of the American Principles Project, confirmed that his organization's long-term goal was to eliminate transition care. The initial focus on children, he said, was a matter of "going where the consensus is."
The rights of people under 18 are just the canaries in the coal mine. We can expect to see more state legislators introducing travel bans for abortion and gender-affirming care—and not just for minors.