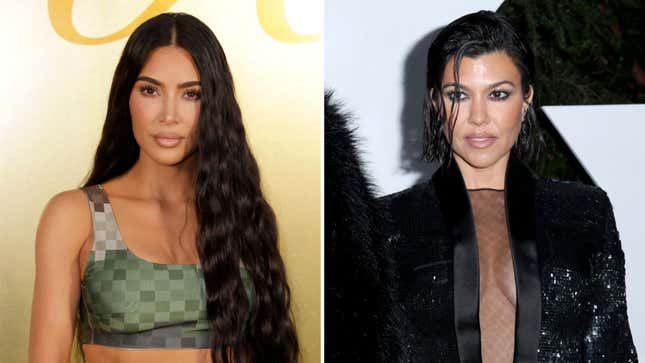 Over the years, the Kardashians have fought about a lot of stupid shit: a $75,000 earring dropped in the ocean in Bora Bora; a violently chucked Blackberry; one mocking the other's crying face. Senseless drama is a necessary, at times even calculated part of the winning recipe for longstanding reality television families, just as it is a grounding mechanism. Real families fight, and so do the Kardashians.
And on this week's episode of the impossibly long-running reality series, Kim and Kourtney engage in what is possibly the least relatable brawl of all time— over who is most worthy of partnering with luxury brand Dolce & Gabbana, who the bigger fan of Andrea Bocelli, and who has a stronger claim to the country of Italy in general. This is, apparently, the climactic blowout that promotional materials for Hulu's The Kardashians have been hinting at since the start of the third season. The underlying narrative, we're to understand, is that Kourtney believes Kim values her business ventures more than her familial relationships, while Kim—who runs the successful shapewear brand SKIMS and possesses an undeniable entrepreneurial spirit—feels as though Kourtney is jealous of her natural business acumen. (Kourtney runs a Goop-wannabe site called Poosh and launched "Lemme Purr" vaginal health gummies earlier this year; take a guess at how that's going.)
During the series' latest episode, which dropped Thursday, Kim strikes back at Kourtney, who's been claiming that Kim wanted to collaborate with Dolce & Gabbana (a morally bankrupt brand, for what it's worth) only after Kourtney married Travis Barker in a gothic Portofino wedding ceremony dripping in vintage D&G fits last year.

"It feels awful that my sister used my wedding as a business opportunity. She chose the money over me. That's why she never truly asked me," Kourtney said in a confessional scene. "It's not that she forgot to ask me or thought that I wouldn't care. I don't think she knew what to do if my answer was no."

Kim has insisted that she waited to initiate the collaboration until long after the wedding and that she avoided sending any specific items down the runway that Kourtney wore during her wedding festivities. She also pointed out that Kylie Jenner has also worked with D&G, sans any backlash from Kourtney. "It is something [specific] with me, and I can't figure out fully what it is," Kim says.

Then she really goes off, spitting some of the most iconic rich sister lines I've heard in some time: "I got married in Italy. Am I saying you copied me by getting married in Italy? Who performed at my wedding? Andrea Bocelli. Who performed at Kourtney's wedding? Andrea Bocelli," Kim says, referring to her and Kanye West's 2014 ceremony. "You stole my fucking wedding country and my wedding performer. Andrea Bocelli is my favorite male singer of all time, but I am copying your Dolce Vita lifestyle?"
Yes, Italy! Famously regarded for their Venetian canals and for being Kim Kardashian's "fucking wedding country!" Also, Andrea Bocelli! Decorated singer, but mostly, property of Kim Kardashian's wedding almost a decade ago!

Later in the episode (spoiler alert), Kim apologizes to Kourtney, concluding: "We've been there before and we'll always be okay. We're always family…but I'm also proud that everyone's really vulnerable, because I'm sure so many other families have gone through similar things."

No, Kimberly, my sister and I do not fight about who's going to book Andrea Bocelli at their wedding. This, also, from a woman who just wore a 17-carat diamond belly chain at a fourth of July white party. I'm glad you worked it out girls, but no, we are not the same!