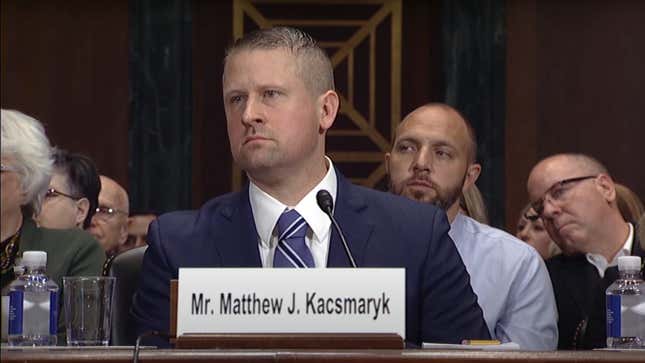 UPDATE 2:55 p.m.: The hearing concluded and Judge Kacsmaryk did not say how he would rule, only that he would issue an opinion "as soon as possible," per CNN.
Self Managed Abortions Explained
Baptist apparently also falsely claimed that the harms of mifepristone and misoprostol "know no bounds." Medication abortion is safer than penicillin and Viagra, and definitely safer than carrying a pregnancy to term and giving birth.
---
UPDATE 2:10 p.m.: The Associated Press published details from the hearing—which started at 10 a.m. Eastern—just before 2 p.m. Erik Baptist, an attorney for Alliance Defending Freedom, told Kacsmaryk that removing mifepristone from the market "would restore proper policing power to the states." The AP said this is a reference to the decision in the case that overturned Roe v. Wade, but that's only true in the "send it back to the states" sense. The opinion, in that case, does not mention policing in any way, so Baptist's use of the word here is especially dark, given the risk of criminalization and lawsuits people may face for using abortion pills or helping others get them.

Kacsmaryk asked Baptist if he could cite any prior case in which a court removed an FDA-approved drug years after it had been on the market and Baptist said he could not; though he blamed the FDA's "stonewalling" of ADF's previous petitions filed in 2002 and 2019 under Republican administrations. Of course, ADF didn't take the unprecedented step of filing a lawsuit until months after Roe was overturned.
---
EARLIER: Today, a federal judge in Amarillo, Texas, is holding a hearing in a highly consequential case that could take the main abortion pill off the market—and he really doesn't want people to protest or report on it.

Over the weekend, we learned that Judge Matthew Kacsmaryk, a Trump appointee, had asked lawyers in the case not to publicize the fact that there would be a hearing today. He told them he'd publicize the hearing Tuesday night, a move that experts said was not only unusual but "deeply concerning." It's especially problematic because Amarillo is several hours away from major airports, so late disclosure would make it difficult for reporters or protestors to attend. Following swift backlash, he announced the time and date of the hearing on Monday afternoon.
The case is about mifepristone, the first of two drugs used in the FDA-approved medication abortion regimen. If Kacsmaryk rules to restrict mifepristone, it wouldn't end all medication abortions as providers are ready to switch to using only the second drug, misoprostol, but it would create more confusion and hurdles for patients and providers.
According to a transcript obtained by Talking Points Memo, Kacsmaryk told the lawyers he wanted to keep the hearing hush-hush as a "courtesy" to him:
"Because of limited security resources and staffing, I will ask that the parties avoid further publicizing the date of the hearing. This is not a gag order but just a request for courtesy given the death threats and harassing phone calls and voicemails that this division has received. We want a fluid hearing with all parties being heard. I think less advertisement of this hearing is better.

So I'm not ordering any gag order doctrine that you are gagged. I'm just requesting it as a courtesy to the court and court staff. So other elements of this case have brought a barrage of death threats and protesters and the rest. I don't want that to disrupt your presentation to the court.

So we will have standard security protocols in place, but I'll just ask as a courtesy that you not further advertise or Tweet any of the details of this hearing so that all parties can be heard and we don't have any unnecessary circus-like atmosphere of what should be more of an appellate-style proceeding,"
He joins the canon of anti-abortion judges asking for privacy as they strip privacy from others. And he didn't stop there.
Washington Post reporter Caroline Kitchener shared just after 7 a.m. this morning that the court was only letting in 38 people; 19 members of the press and 19 members of the public. Kitchener said there's no "overflow" room at the courthouse. High-profile court cases often set up a room for people who don't fit in the chamber and stream live video for them to follow along—but not here. Audio of the hearing will be played in a Dallas courtroom for people who couldn't make it to Amarillo, but no one can listen remotely—they have to be at one of those two courthouses.
No electronics are allowed in the courtroom—not even for reporters, per Eleanor Klibanoff of the Texas Tribune. (Lawyers had to submit electronics requests ahead of time to bring their laptops.) We knew this was the case for the Dallas audio stream, but apparently, devices aren't allowed in Amarillo either.
So to recap: not a single soul can listen remotely to the hearing that the judge tried to keep a secret, and reporters in Amarillo or Dallas cannot live-tweet the proceedings. Seems like this guy really doesn't want people to know what will be said in real time! Perhaps it's because the case is completely meritless and activists only filed in Kacsmaryk's district because they knew he was staunchly anti-abortion and had a penchant for issuing nationwide rulings.
University of Oklahoma law professor Joseph Thai was scathing in his assessment to the Associated Press. "The fact that the Trump-appointed judge is deciding a highly political question, potentially denying millions of women across the country a safe and effective abortion pill, makes it all the more critical to ensure public notice and access to the hearing at which their rights will—or will not—be heard," Thai said. "Nothing less than the legitimacy of the judicial branch is at stake."
The hearing started at 10 a.m. Eastern and each side gets two hours, so it could conclude around 2 p.m. and we'll be following along.
This post will be updated as more information becomes available.