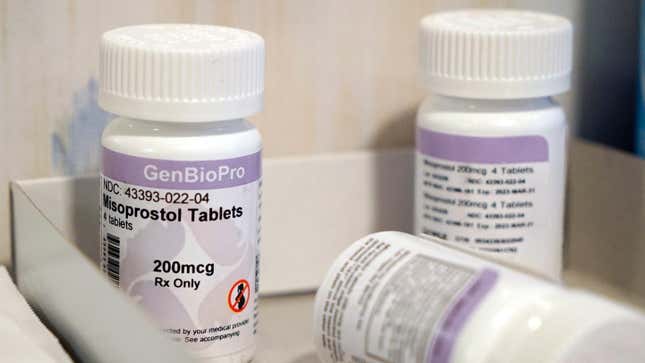 A Galveston, Texas, man is suing three women who allegedly helped his now ex-wife obtain abortion pills to end her pregnancy. The Texas Tribune first reported news of the lawsuit on Friday, which it says is the first of its kind since the Supreme Court overturned Roe v. Wade.
The lawsuit is even more chilling than it initially sounds because of the legal arguments it makes. Yes, Texas has a total abortion ban, as well as an "aiding and abetting" law enforced by private lawsuits, but the man is suing under the state's wrongful death statute. The lawsuit claims that assisting with a self-managed abortion qualifies as murder under state law, which allows the man to file a wrongful death claim. (Texas law exempts pregnant people from prosecution and his ex-wife is not named as a defendant.)
Marcus Silva claims in the civil lawsuit that his then-wife learned she was pregnant with his child in July 2022 after the state's total ban took effect and discussed with two friends how to get abortion pills. The friends allegedly discussed Aid Access, a site that ships medication abortion drugs from overseas, but they were able to get the pills in Houston where two of the women live. The suit claims a third woman delivered the pills to Silva's wife, and photos of text messages suggest that she self-managed the abortion at home. The women have not been criminally charged.
The couple has two daughters. Per court records, she filed for divorce in May 2022 and the divorce was finalized in February 2023, which certainly makes the timing of this lawsuit suspect.
"I know either way he will use it against me," the pregnant woman said, according to photos of a group text attached to the suit. "If I told him before, which I'm not, he would use it as [a way to] try to stay with me. And after the fact, I know he will try to act like he has some right to the decision."
Since this is a civil suit, not a criminal case where search warrants have been executed, it's not clear how Silva accessed the text messages, and many photos of the texts in the complaint appear to be photos of a phone, not screenshots. A thumb is visible in at least seven of the photos.
Silva's lawyer is Jonathan Mitchell, the architect of SB 8, the bounty hunter law that allows anyone to sue someone who aids or abets an abortion. It's notable that Mitchell isn't suing under his own law but instead is taking a more aggressive stance to claim the women participated in a murder.
Silva has asked a state court judge in Galveston for damages of more than $1 million, and he also wants an injunction to stop the three women from distributing further abortion pills.
Texas lawmakers recently introduced a bill that would censor abortion pill websites, including Aid Access. This latest action shows that anti-abortion activists will not be satisfied until people are too scared to even help their friends.
Just last week, South Carolina police arrested a woman who had allegedly self-managed an abortion in October 2021.
This is a breaking news story and will be updated.