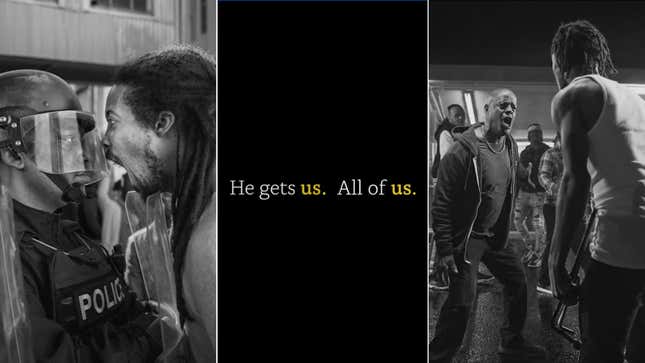 So, here's why "Christian Super Bowl" has been trending on Twitter all day today: On Sunday night, a one-minute-long ad stating that "Jesus loved the people we hate. He gets us. All of us," made quite the splash. The ad featured a vignette of black-and-white photos of memorable, unruly fights in the streets, on airplanes, and really, everywhere, from the last couple of years. And considering many of its photos depict visibly angry Black protesters and people of color, the message, apparently, is that we should love the people who are ruthlessly hacking away at our rights.

Self Managed Abortions Explained
The "He Gets Us" ad cost a whopping $20 million, and that's on top of the handful of previous iterations that have aired throughout the NFL playoffs in recent weeks. Of course, $20 million is a drop in the bucket for the group that funded it: the Servant Foundation, which reported $1 billion in assets and distribution of $390 million in grants to anti-abortion and anti-LGBTQ organizations, per its 2020 tax return obtained by Lever News. Among the top five beneficiaries of these grants? The Alliance Defending Freedom—which proudly takes credit for drafting the 2018 Mississippi law that led to the overturning of Roe v. Wade in June. More recently, ADF is leading the legal war to end medication abortion in the U.S. (Erin Hawley, the wife of pro-insurrection, rabidly anti-abortion Sen. Josh Hawley (R-MO), is notably a member of the senior counsel at the organization.)
Currently, a Trump-appointed judge is on the brink of issuing a decision that could revoke FDA approval of mifepristone: the highly safe and very common medication that's the first of two drugs used in a medication abortion. If the judge rules in favor of anti-abortion groups, the medicine would be rendered inaccessible even in blue states where abortion isn't banned. (Still, providers are ready to prescribe abortions using only the second drug, misoprostol.) Mifepristone is widely used to both safely induce abortion and help end a miscarriage that's already underway. More than half of abortions in the U.S. are now completed through abortion pills instead of procedural abortion, and post-Roe, the availability of mifepristone orders by mail has become an especially critical lifeline for abortion access. For months, activists and healthcare providers have been sounding the alarm on the seismic implications this ruling could have for people's ability to get abortion care—and none of which would be possible without millions in funding from the Servant Foundation.
"The sheer amount of money poured into the anti-abortion movement by mysterious, unknown actors—we're now seeing it mainstreamed on some level in the Super Bowl," Lizz Winstead, founder of the abortion rights activist group Abortion Access Front, told Jezebel. She further characterized the "He Gets Us" ad and its roots in a billion-dollar anti-abortion foundation as "just another Christian grift." The deep pockets behind the ad, she said, "clearly don't 'get' people who have abortions at all."

It's notable that Sunday night's Super Bowl ad, with its imagery drawn from iconic protests, felt like not-so-subtle pandering to younger audiences. Previous "He Gets Us" ads made a similar, hackneyed attempt at relatability: In one ad, the organization claims "Jesus struggled to make ends meet, too." Another characterizes Jesus as "an influencer who became insanely popular" but ultimately "was canceled." Further, a spokesperson for He Gets Us has claimed its funding "comes from a diverse group of individuals and entities with a common goal of sharing Jesus' story authentically," referring to the group of assorted Christian billionaires—including David Green of Hobby Lobby—bank-rolling it.
This emphasis on diversity, relatability, and pop culture slang reminds me of Jezebel's reporting from last year on an insurgent new wave of anti-abortion movements co-opting youthful, pop-feminist language, and DEI rhetoric. It's a transparent effort to market the criminalizing of pregnant people and the movement's abhorrent politics of state-controlled pregnancy to Gen-Z and younger audiences. But based on how ruthlessly the "He Gets Us" ads are being mocked, it seems all the money in the world can't buy non-cringe propaganda. And, for the record, Jesus didn't have a single negative word to say about abortion.
"[Anti-abortion groups] fight tirelessly against us and are so well-funded," Winstead said. While the ads didn't specifically invoke anti-abortion messaging, she emphasized that they extend from the same right-wing media ecosystem, forever backed by "white, male billionaires," to spread anti-abortion disinformation and stigma to the public. Disinformation—particularly around the safety and effectiveness of medication abortion—paved the way for the catastrophic lawsuit we're seeing now.

The same right-wing actors that claim to prioritize fiscal conservatism have been responsible for state governments spending millions in taxpayer dollars on defending anti-abortion laws in court. The Washington Post reported that from 2016 to 2019 alone, several states, including Texas, Mississippi, North Carolina, Alabama, Ohio, and others, spent nearly $10 million in legal fees. While funding for social safety net programs for low-income children and families constantly runs dry, massive amounts are being poured into legally upholding policies of forced birth and pregnancy policing—thanks to organizations like the Servant Foundation.