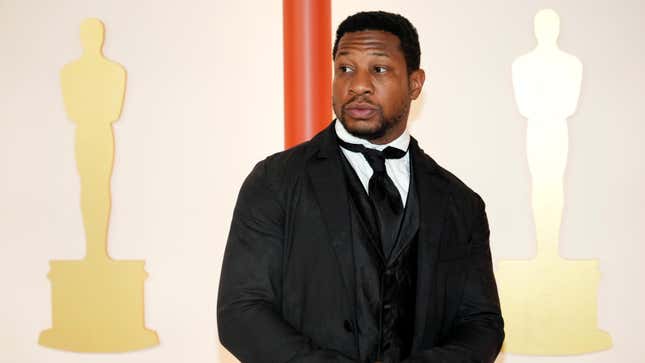 One month after Jonathan Majors was arrested for domestic assault after allegedly attacking a woman whom police identified as his girlfriend, the woman was granted a temporary restraining order against Majors on Thursday. Per the Manhattan District Attorney's office, the order of protection was granted with the consent of Majors' legal team. Majors' lawyer Priya Chaudhry, who has an extensive history of representing famous men accused of abuse, claimed that Majors only consented to the restraining order because he "wants nothing to do with the woman who assaulted him."

There's Nothing More American Than Baseball & Begging Elected Officials to Care About Climate Change
On the night of Majors' arrest in March, a police report details that the woman "sustained minor injuries to her head and neck" resulting in her hospitalization. Chaudhry shared screenshots of texts apparently between the woman and Majors in which the woman references her injuries and seems to claim they were "my fault for trying to grab your phone." In recent weeks, according to several reports, multiple women who say they were abused by Majors are now cooperating with the Manhattan District Attorney's office.
With all of this context, Chaudhry's claim that Majors is the victim is fairly ridiculous. But it's concerning how blatantly his legal team appears to be relying on a tactic that domestic violence experts call DARVO (Deny, Attack, and Reverse Victim and Offender.) DARVO was the driving strategy in Johnny Depp's legal battle against ex-wife Amber Heard. Depp's team characterized evidence of Heard fighting back against abuse as "mutual abuse," a term that's inaccurate and harmful, domestic violence experts have told Jezebel. DARVO can be a highly effective tactic because of widespread illiteracy and misunderstanding about the complexities of abuse (resulting in victims' reactions to abuse being equated with abuse), and, naturally, because of misogyny.
That Majors' legal team would try to cast the woman he allegedly attacked as the real aggressor is in line with what we've seen from his team so far. The texts Chaudhry shared with TMZ last month show the woman claiming the alleged altercation between the two was her fault, although this only raises questions about what exactly happened after she "[tried] to grab" Majors' phone and how this may have resulted in her recorded injuries. Research has also shown self-blame is a common frame of thinking among victims of intimate partner violence, often as a result of extensive or long-term manipulation.
That the woman insisted in her texts to Majors that police "do not have my blessing on any charges being placed" ultimately doesn't absolve Majors either: It's faily common for victims or women in abusive relationships to try to drop charges against an abusive partner to protect them, or understandably, to avoid entering a re-traumatizing criminal legal system. One 2018 study showed that in a third of cases in which domestic violence charges are dismissed, this happens because the victim has recanted, won't testify against the alleged abuser, or can't be located.
In addition to the texts, earlier this month, Majors' team shared video footage with the New York County Criminal Court that they claim shows the woman out partying after the alleged attack, as if women who are victimized have to act a certain way after an assault to be believed. Video footage can only capture one frame of time and can be heavily manipulated—it can't prove what did or didn't happen off-camera.
We still know very little about the case surrounding Majors, as the woman he allegedly harmed hasn't spoken publicly—understandably so, considering what we've seen happen just in the last year to women who do publicly come forward about alleged abuse. But with the little information we have, it's chilling to watch yet another famous man accused of abuse spin, manipulate, and use DARVO. We've already seen how effective this can be and how eager the public is to both exonerate allegedly abusive men and frame women as liars.