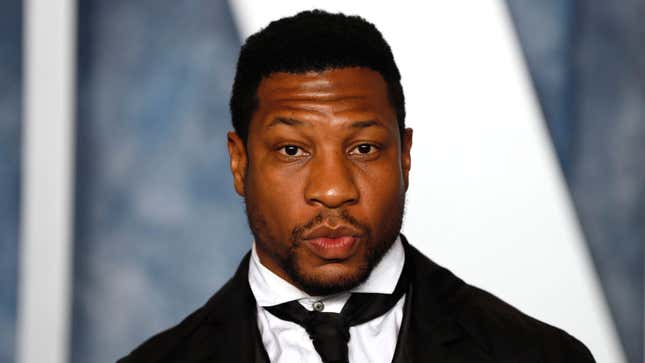 The physical abuse allegations against Jonathan Majors don't appear to be going away any time soon, despite his attorney claiming that the victim recanted and that video evidence would soon easily exonerate the actor.
Raquel Leviss Told Us 'I'm Like, A Good Person' Just 48 Hours Before #Scandoval
Variety reported on Wednesday afternoon that "multiple" more victims have come forward and are cooperating with the Manhattan district attorney's office in the wake of Majors' arrest last month for domestic assault. The reporting validates tweets by a director and another actor claiming that Majors' abusive behavior, particularly towards women, had been well known in the acting community prior to the incident that made headlines.
Majors was taken into custody in March after a dispute between him and a woman whom police identified as his girlfriend allegedly escalated into a physical assault. The pair reportedly began arguing in a taxi on the way home from a Brooklyn bar after she saw him texting another woman, and the verbal altercation became violent. Majors then allegedly slapped the woman, causing a visible laceration behind her ear, and put his hands around her neck.
Days later, Priya Chaudhury, his attorney, shared with TMZ screenshots of texts supposedly between the actor and the woman he allegedly assaulted—but, as Jezebel wrote at the time, those texts ultimately raised more questions than answers about the incident.
This week, Majors' management team dropped him and he backed out of the Met Gala, where he was scheduled to attend as a guest of Valentino. It stands to reason that if Majors were innocent of the charges against him, his team would stand by him through these legal troubles. Perhaps they knew before we did that—as Variety put it—there are "more women waiting in the wings" who'd previously been afraid to accuse a beloved up-and-coming actor of anything.