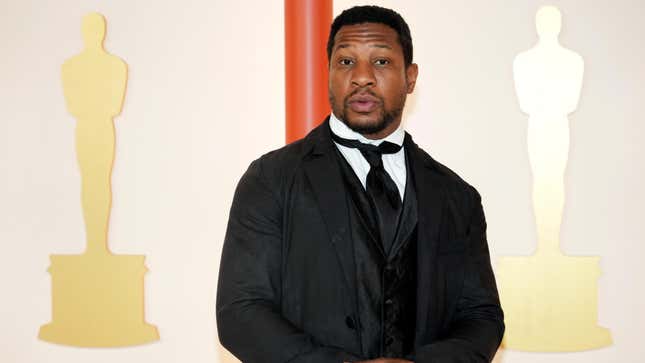 In case you missed it, breakout actor Jonathan Majors was arrested for domestic assault after allegedly attacking his girlfriend in New York City over the weekend. As reported by TMZ, Majors was charged with misdemeanor assault, aggravated harassment, attempted assault and harassment after he was released from police custody. The news elicited a deluge of reactions, including further allegations of abusive behavior, although the actor's attorney claims that the victim recanted and that there's video evidence that will exonerate Majors. Now, the Army has pulled a new ad campaign that features Majors as its narrator.
Raquel Leviss Told Us 'I'm Like, A Good Person' Just 48 Hours Before #Scandoval
In a statement, the Army's Enterprise Marketing Office said that it was "deeply concerned by the allegations," and added that though Majors "is innocent until proven guilty, prudence dictates that we pull our ads until the investigation into these allegations is complete."
According to TMZ, the alleged assault was preceded by a dispute between Majors and a woman (allegedly, his girlfriend). The pair allegedly began arguing in a taxi on the way home from a Brooklyn bar after she saw him texting another woman. The verbal altercation reportedly became violent, and Majors allegedly slapped the woman, causing a laceration behind her ear, and put his hands around her neck.
The decision to yank the Army ad campaign has arrived in the midst of a media firestorm. In the immediate wake of Majors' arrest, filmmaker A.B. Allen clarified that his cryptic tweet back in February describing a "vicious, cruel, abusive human being" was, in fact, about Majors:
"There's a particular actor, relatively new on the scene, who Twitter has violently fallen head over heels for who, in actuality, is a vicious, cruel, abusive human being, both professionally and in his personal life, and every new viral thirst tweet about him drives me insane."

The tweet, along with another declining to share more of what he knows about Majors, has since been made private. Tim Nicolai, Society Theatre co-founder and Broadway actor, tweeted that he, too, has known of Majors' reputation as an alleged perpetrator of abuse:
"I'm just gonna say this about Jonathan Majors and be done with it: folks at Yale and the broader NYC community have known about him for years. He's a sociopath and abuser and that is how virtually everyone speaks about him. It's a shame it took this long for him to be reported."
In a series of tweets that have since been made private, Nicolai also wrote that he didn't want to expose other alleged survivors of Majors and that he was in communication with them: "Literally people [Jonathan Majors] did this to are texting me right now. It's not 'I heard.'"
Meanwhile, Majors has hired Priya Chaudhry, the criminal trial lawyer who represented former Real Housewife of Salt Lake City, Jen Shah. Chaudhry has vehemently denied any wrongdoing and claims that the woman who accused her client of strangling her following a dispute on March 24 has already recanted her allegations:
"Jonathan Majors is completely innocent and is provably the victim of an altercation with a woman he knows. We are quickly gathering and presenting evidence to the District Attorney with the expectation that all charges will be dropped imminently. This evidence includes video footage from the vehicle where this episode took place, witness testimony from the driver and others who both saw and heard the episode, and most importantly, two written statements from the woman recanting these allegations. All the evidence proves that Mr. Majors is entirely innocent and did not assault her whatsoever."
"He's done nothing wrong," a representative for Majors also told TMZ. "We look forward to clearing his name and clearing this up."

Majors is due in court in May. He was photographed leaving New York City court wearing a hat with "Freedom" printed on it, which was...a choice.

Chaudhry has not responded to Jezebel's request for comment.