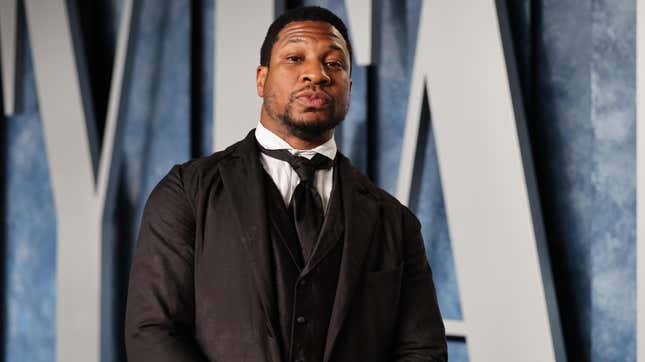 Over the weekend, Jonathan Majors was arrested for domestic assault after allegedly attacking a woman who police identified as his girlfriend. He was ultimately released without bail, and his lawyer said the woman issued statements recanting the allegations, though some expressed concern that the statements had been coerced. On Thursday, Priya Chaudhury, a lawyer for Majors, shared screenshots of texts supposedly between the actor and his alleged partner to TMZ. The intent of sharing the texts appears to be to exonerate Majors, but ultimately, they've raised more questions than answers.

Raquel Leviss Told Us 'I'm Like, A Good Person' Just 48 Hours Before #Scandoval
In the texts, the woman primarily seems concerned with protecting Majors from further legal trouble. "They assured me you won't be charged. They said you had to be arrested as protocol when they saw the injuries on me and they know we had a fight," the unnamed woman (allegedly) wrote. "I'm so angry they did. And I'm sorry you're in this position. Will make sure nothing happens about this." In the same text, she said she told police, "it was my fault for trying to grab your phone," and added that she just got out of the hospital.

The physical injuries she references are what ultimately led to Majors' arrest. According to the New York Police Department, the woman "sustained minor injuries to her head and neck" and "was removed to an area hospital in stable condition."
Hours later, she told Majors that police just called to follow up with her, and they "reiterated this was not an attack and they do not have my blessing on any charges being placed."
"I read the paper they gave me about strangulation and I said point blank this did not occur and should be removed immediately. The judge is definitely going to be told this," she wrote. "Know I'm doing all I can on my end. I also said to tell the judge to know that the origin of the call was to do with me collapsing and passing out and your worry as my partner due to our communication prior. Out of care."
Tabloids including TMZ and Page Six have been quick to share and frame the screenshotted texts as exonerating Majors. Page Six said the texts "appear to prove [Majors'] innocence." Chaudhury told TMZ the texts supposedly show the woman "admitting that she was the one who used physical force against him."
On the contrary, the texts only stoke further confusion and concern. Sharing them with TMZ is an eyebrow-raising choice on behalf of his legal team, especially as it isn't clear whether the woman consented to his team doing so. In particular, the woman texting that "it was my fault for trying to grab your phone" raises questions about what exactly happened after she "[tried] to grab" Majors' phone and how it may have resulted in her recorded injuries. Some have also suggested her insistence on blaming herself reflects a common frame of thinking among victims of intimate partner violence, often as a result of extensive or long-term manipulation.
Chaudhury's comments to TMZ are also questionable. Her claim that the texts show the woman "admitting" to being the one to harm Majors is strikingly similar to the legal strategy deployed by Johnny Depp's team in his defamation trial against Amber Heard. Depp's strategy relied on misrepresenting Heard as the abuser for fighting back or defending herself against Depp.
"Most victims accused of being mutually abusive are just having emotional or even physical reactions to the abuse that they're suffering," Amanda Kippert, domestic violence expert and director of editorial at Domestic Shelters, told Jezebel last year. "Abusive partners will then accuse their victims of being abusive, in order to shift the blame as a form of gaslighting."
It's also not uncommon for victims or women in abusive relationships to not report their experiences to police or try to drop charges against an abusive partner in order to protect them and/or avoid entering a retraumatizing criminal legal system. One 2018 study showed that in 33 percent of cases in which domestic violence charges are dismissed, this happens because the victim has recanted, won't testify against the alleged abuser, or can't be located.
According to TMZ, Chaudhury is in the process of gathering more evidence to "disprove" the charges against Majors, and "believes there is also video footage from inside the vehicle where the alleged incident went down that will clear Majors." Of course, video footage can only capture one frame of time and can be heavily manipulated; it also simply cannot prove what did or didn't happen off-camera.
As we await more details about this case, it's important to be discerning about tabloid framing that is often as quick to exonerate allegedly abusive men as it is to frame women as liars.