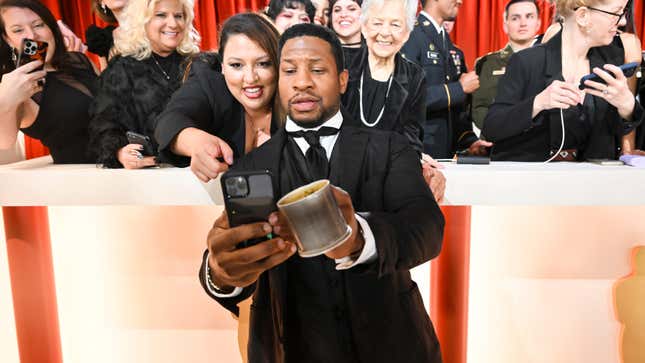 Jonathan Majors appeared in court on Tuesday morning for a status conference regarding his domestic violence case in Manhattan. Appearing alongside his attorney, Priya Chaudhry, Majors brought his personal Bible, poetry journal, and his signature empty coffee mug, pictured above.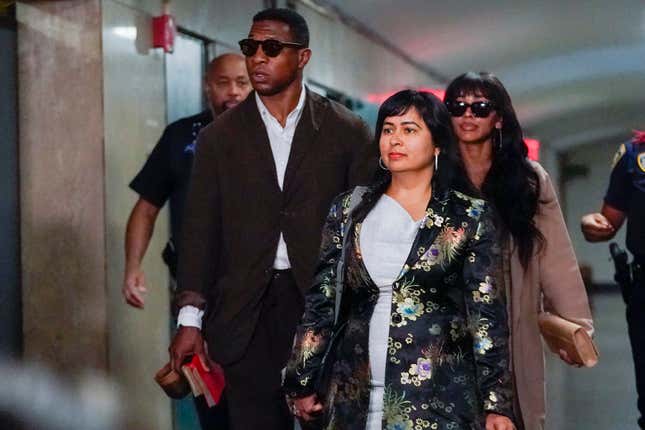 Domestic violence court Judge Rachel Pauley scheduled the actor's trial for Aug. 3. Pauley told him, "Best of luck," and he replied, "Yes ma'am," according to the Associated Press. Chaudhry, Majors' attorney, had urged the district attorney's office to throw out the charges in her client's case and asked that the office charge the 30-year-old woman at the center of the case.
During Tuesday's appearance, Pauley issued a sealed decision, meaning it was not discussed publicly. After the hearing, Chaudhry repeated that Majors was innocent and that the 30-year-old woman who accused him of abuse should instead be charged with abuse, herself. "While we are hopeful that the District Attorney is reviewing these materials in good faith and will do the right thing soon, to accelerate our case, we've requested a trial date ASAP," Chaudhry said in a statement to The Hollywood Reporter. (Jezebel has reached out to Chaudhry as well.)
Majors was accompanied to Tuesday's hearing by his new girlfriend, Meagan Good. Reports first surfaced about the pair about a month after Majors was charged.
Majors was first arrested back in March on suspicion of domestic assault. He was accused of attacking his girlfriend in a taxi and putting his hands around her neck. Majors was released without bail.
While the case winds its way through Manhattan courtrooms, Majors' longtime management and PR team parted ways with the Yale-trained actor. He also "mutually agreed" to not appearance at the Met Gala on behalf of designer Valentino, and the U.S. Army pulled recruitment ads that the he'd narrated. (At the time, the Army's Enterprise Marketing Office noted Majors' right to innocence until proven guilty, but "prudence dictates that we pull our ads until the investigation into these allegations is complete.")
There are no other scheduled court appearances at this time until the August trial. In April, Variety reported that multiple women were cooperating into investigation into Majors, but no other charges have been levied against the actor.