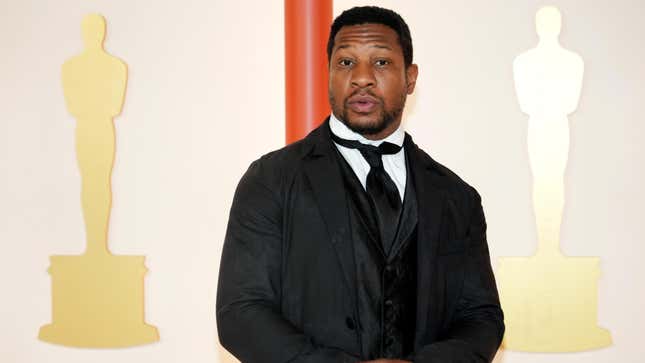 Just weeks after Jonathan Majors was arrested and charged with misdemeanor assault, aggravated harassment, attempted assault and harassment of a woman whom police identified as his girlfriend in New York City, the actor's longtime management and his PR team have reportedly exited stage left.
Raquel Leviss Told Us 'I'm Like, A Good Person' Just 48 Hours Before #Scandoval
Per Deadline, the departure—beginning with Majors' PR firm, The Lede Company, earlier this month—was prompted by "issues surrounding the actor's personal behavior." The outlet also noted that Majors would not attend the Met Gala on May 1, where he was invited to be a guest of Valentino. Apparently, Majors and the fashion house "mutually agreed" on the matter.
The Lede Company and Entertainment 360—Majors' former management—have thus far declined to provide further comment on the parting of ways, but it almost certainly has to do with the charges against him and the subsequent allegations of abusive behavior that quickly began circulating on Twitter. In late March, the Army pulled a new ad campaign that featured Majors as its narrator, and it seemed only a matter of time before his whole team started to distance themselves.
Majors was arrested after a dispute between him and a woman allegedly escalated into a physical assault. Per reports, the pair began arguing in a taxi on the way home from a Brooklyn bar after she saw him texting another woman; the verbal altercation became violent; and Majors allegedly slapped the woman—causing a laceration behind her ear—and put his hands around her neck.
After Majors was released without bail, his lawyer, Priya Chaudhury, claimed the woman issued statements recanting the allegations, though some have questioned whether those statements were coerced. Chaudhury also shared screenshots of some fairly suspicious texts to TMZ that were supposedly between the actor and the woman and said the defense anticipated all charges would soon be dropped. As of now, the charges still stand.
According to TMZ, Majors is due back in court next month.