In the middle of a hot Tennessee summer, young Harry T. Burn was mulling the ratification of the Nineteenth Amendment. Congress had proposed the amendment a year prior and it looked like it might die since only 35 states saw fit to ratify and others refused to hold special sessions in order to vote on the Amendment. But not Tennessee; no, the Tennessee legislature would gather in the middle of that hot 1920 summer to decide whether or not the humble state would change the course of American history.

Burn, the youngest member of Tennessee's legislature, pondered the question of suffrage during those damp, humid Southern days, finally deciding that he would cast his vote against suffrage. But, thankfully for women, he would be persuaded otherwise, by a woman whose name is a footnote in history: his mother, Mrs. J.L. Burn.
"Dear Son," Mrs. Burn wrote. "Hurrah and vote for suffrage! Don't keep them in doubt! I notice some of the speeches against. They were bitter. I have been watching to see how you stood, but have not noticed anything yet. Don't forget to be a good boy and help Mrs. Catt put the 'rat' in ratification." She signed the note, "Your Mother."
You can almost hear the Ken Burns-style voiceover and swelling music indicating that young Harry T. Burn had changed his mind as his marched to the Tennessee state house and voted in favor of ratifying the Nineteenth Amendment. And reader, it passed.
Burn was the original male ally, but there have been many since. In honor of the sacrifices of Burn and his ideological descendants, Jezebel is pleased to share its official Senior Week 2016 power ranking of male allies. Our ranking is mercurial at best—we are, after all, women—and based on observations of both wokeness and use of keywords like "women," "ally," and "feminism," as well as catchphrases like "equal pay," and "I'm not a sexist." Ownership of t-shirts and holding books written by women also garnered a few precious ally points.
G/O Media may get a commission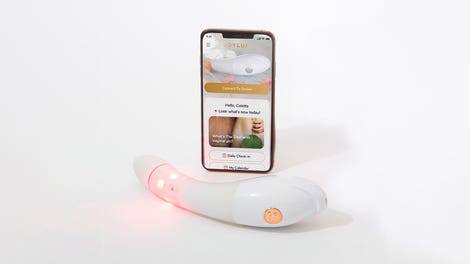 $50 Off
Joylux vFit Gold Device
It was a hard list to compile, and certainly there are worthy allies out there we've overlooked, but here is our official ranking of the most powerful allies in the game. Thank you, as always, for your vocal support of women. We couldn't do it without you.
---
36. Jonathan Franzen
This literary man is unafraid of both Oprah and bold depictions of feminists. In Purity, he depicts a woman so committed to the cause, a "fanatical feminist" who "forces her husband to urinate sitting down on the toilet to atone for his maleness." That's some brave realism from a man insistent that he's "not a sexist."

35. #HillaryMen
A group of men voting for a noted woman, Hillary Clinton. They want the world to know that they're men.
They all uttered the word "women" at one point in their lives.
33. Bill Simmons
Proprietor of The Ringer, he was a chauvinist—until he became a dad:
32. The Try Guys

An invention of Buzzfeed Video, these guys boldly break gender barriers by trying on wedding dresses, coding with women, wearing false pregnancy bellies, and mothering robot babies. Sure, the very concept of the Try Guys could be rendered useless by simply asking one or two women about this stuff, but a real ally doesn't listen to women; no, he seeks empathetic understanding on his own terms.

31. Adam Levine
Has been photographed in a t-shirt that says "Feminist."

30. Benedict Cumberbatch
This ginger with an inexplicably large fan base has also been photographed wearing clothing with the word "feminist" written on it.

29. Other Men Wearing Feminist Graphic Tees
There are a lot of them!
28. Dat Boi
The meme we don't deserve.

27. This Guy From Hot Dudes Reading
Congratulations, again, on demonstrating basic literacy.
26. Alex Jones
Purveyor of conspiracy theories, Jones told our own Anna Merlan that he is, in fact, incredibly woke. Sure, Anna had to explain what "woke" meant to him, but at least he was willing to listen, which is more than we can say for most men.

25. Andy Richter
The comedian knows all about the privilege of white men (or, as he calls it, "priv") and isn't afraid to tweet about it.

24. Anil Dash
He once retweeted women for an entire year. Plus, there's this 2013 Twitter exchange with Jessica Valenti during which he proved that his ally credentials were made of the purest gold:
23. John Cook
Enjoys the occasional "frothy yarn" published here at Jezebel dot com. Also, is our boss.

22. Men Holding Signs
Tom Hiddleston, Harry Styles, and Justin Timberlake are among the many famous men in possession of a sign.

21. "I'm a Male Feminist" Essay Writers
Thank you for your fine work.
20. Rusty Foster
A man with consciousness-raising newsletter.

19. Chance Ward
Ward had a moment of internet fame for being the most outspoken male ally to "menstruating women everywhere." We salute Chance Ward and his pocket full of tampons.

18. George Fellows
Sure, Chance Ward may carry tampons but George Fellows, an empathetic English lad, has sympathy PMS with his best female friend. That, my friends, is an ally.

17. This Abandoned Jezebel Draft
16. Chris Hayes
An ally with a television show.
15. Men Who Email Us
Shouldn't the goal be humanism, not feminism? And, seriously, not all men. Thank you for keeping us humble.
14. Orlando Bloom
He's just a man, standing in front a paparazzi's wide-range lens, groping a woman in love with Hillary Clinton. He's got the eye of the tiger. A fighter, dancing through the fire. He's, like thunder, gonna shake the ground.

13. Matt Pearce
[Insert thinking emoji]

12. Mark Shrayber
An ally who won't stop texting me or sending Jezebel staffers "gifts."
11. Mark Lotto
What's Matter Studios, again?
10. Aziz Ansari
Acknowledged during an appearance on David Letterman that he had looked up feminism in the dictionary.
9. Brendan O'Connor
This Gawker staff writer is an ally so powerful that when Jezebel EIC Emma Carmichael beat him at a sports-related trivia event, he responded like a true ally:
8. Joe Biden
Joe Biden talks about violence against women and he wrote the Violence Against Women Act! He was on Parks and Recreation! Mic declared him the number one "closet male feminist in government." Just don't ask him about Anita Hill!
7. The Men Behind "White Girl Problems"
They understand what white girls really want: branding and rosé.
6. Lil B
He speaks the truth
5. Tim Kaine
Reports indicate that the Virginia Senator is "woke."
4. My 3-year-old son
Just last night, when I asked my toddler if he was an ally, he looked at me seriously, pondered the question and quoted a brief passage from Luce Irigaray's Their Sex Which Is Not One.

I nodded somberly, momentarily overcome by the profundity of his decision to quote from Irigaray; it was a bold choice, post-modern, even.

Then he asked me something truly perceptive: "Mommy," he queried, "can dinosaurs fly spaceships?" I don't know, son. I don't know.
3. 420 Dog
The expression of 420 Dog says more than all of the words in this post. It's a gift to all women.
2. Matt McGorry
No list of male allies would be complete without McGorry, the man who picked up the mold of the male ally, threw it to the ground, smashed it into a thousand pieces, and remade it in his own image. McGorry has t-shirts, is buds with Joe Biden, reads books, knows the definition of feminism, and engages lady friends in conversations about their lady problems (like the pay gap!). Thank you, Matt McGorry, for your continued support of women.
1. Bobby Finger
As a man, Jezebel's only male employee is a true inspiration to all aspiring male allies.