February was a short month, but the baes of the world used their time wisely.

Does this recognition of wokeness perhaps seem like I'm handing out cookies for behavior that's good, but which should simply be expected from most relatively smart, decent human beings? Of course! But that's what we do here at Wokest Baes and I'm damn proud of it.

---
Andy Richter
Andy proved himself to be proficient in the concept of "privilege," also known as "priv," by people who want to be annoying.
G/O Media may get a commission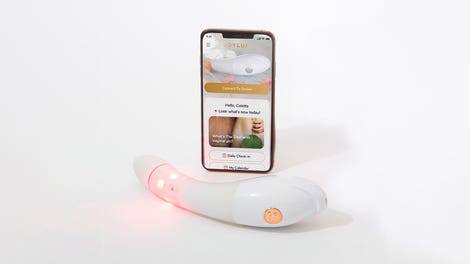 $50 Off
Joylux vFit Gold Device
Bae Factor:
Look, I have a healthy imagination. Andy may not be my cup of tea, but I can see this. And he knows how to pick a flattering pair of frames.

Woke Factor: Way. To. Address. That. Priv. Andy. Way to call out that priv! I would have liked to see a bit more checking of the priv, but I do think it's implied in his willingness to even acknowledge the priv of white men. Good work, my man.
---
Reggie Miller
The former NBA star was not happy with how his sister's legacy was being honored at the University of Southern California.
Bae Factor:
You know what? NOT MAD AT IT. I see you Reggie. (I don't love saying that though because Reggie is my dad's name. Luckily, aside from being the same shade, they don't look anything alike and I can compartmentalize.)
Woke Factor: This was a good woke moment. Sexism is everywhere if your eyes are alert and open! However, I can't ignore the fact that he's mostly caping for his sister here. It sounds a bit like: "Rape is bad because how would you feel if your mother and your sister were raped?" Still, I'm going to allow it because he did add "and gang," which by the way, includes Lisa Leslie the gawdess.
---
Mark Ruffalo
Our friend Mark stayed busy with a number of topics this month.
Bae Factor:
13 Going on 30 Mark Ruffalo will always have a place in my heart and I can appreciate the gray. He is bae-ceptable.

Woke Factor: Mark was a difficult choice for me. He's said some mostly not dumb things about #OscarsSoWhite. However, he took a hit when he sort of implied that he would be boycotting the Oscars and then was like, haha no, I'm going. Mark also has a bit of a Bernie Bro streak in him, but I'll give him props for being able to keep it in check because lord knows that often feels like a rare skill. And please note, future woke baes: Public adoration for Ava Duvernay will get you far in my book.
---
Jack Antonoff
Jack had some thoughts about Bill Cosby this month....
And Kesha...

Bae Factor:
Look, I am but one woman with her own taste—different baes for different lay-days, ya know? But Jack here clearly puts a lot of effort into this look: The not too long, not too short 5 o'clock shadow, the perfectly tousled hair, the crooked glasses that balance out his ears and the hint of a lip pout that I imagine takes a lot of focus not to overdo. I can appreciate hard work.
Woke Factor: He used a lot of caps so you can tell he really meant it.
---
Fumbles In Wokeness or Baemanship
Chad Michael Murray
For some reason, somebody at the Huffington Post asked Chad about the Oscars:

As for the conversation surrounding the Oscars, Murray had this to say: "I just want to see great people in great performances honored. I don't want to talk about skin color, I want to talk about everyone as one, as people."
Hm. Chad sounds like a lot of well-meaning white people who talk about race but don't have the intellectual tools or pertinent information to say something smart. All human beings are not necessarily "one," nor do they want to be. And suggesting that we all stop taking about skin color is one of the whitest things a person can say.
On one hand, Chad didn't say anything wildly offensive and he had a half-decent point buried in there somewhere. On the other, he starred in a Tyler Perry movie so homeboy really should know better.
---
Spring is coming and as the frozen Earth and hibernating animals begin to awaken, I hope the minds of baes everywhere do the same. See you next month for March's wokest baes.
---
Contact the author at kara.brown@jezebel.com .
Images via Getty. Gif by Bobby Finger.