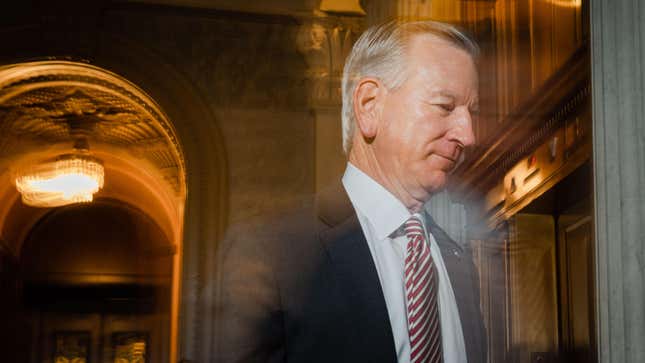 If there's one thing Republican politicians love to love, it's the military. Sen. Tommy Tuberville (R-Ala.) recently went so far as to defend white nationalists in it, saying, "Well, they call them that. I call them Americans."
So it feels especially notable on this Memorial Day—a day decided to honoring and mourning fallen service members—that Tuberville has been blocking hundreds of military promotions for months. Over abortion.
The Alabama football coach-turned-senator is particularly upset about the Pentagon's decision to reimburse service members for travel-related abortion expenses, as many of them are stationed in states that are hostile to reproductive rights. And because most military promotions are approved by unanimous consent in the Senate, if even one senator objects, the whole process is derailed.
This is only the second time in American history that military promotions were held up for political reasons. The last time was through a majority of senators after the sexual assault scandal at the Tailhook conference in 1991, when Congress was trying to take a stand against or at least make a statement about sexual violence in the military. Tuberville certainly isn't getting that same support from his colleagues. Senate Minority Leader Mitch McConnell (R-Ky.) said he "doesn't support" the senator's stance. Majority Leader Chuck Schumer (D-N.Y.) called the blockade "dangerous." Sen. Tammy Duckworth (D-Ill.), who lost both her legs in combat, said Tuberville is "putting national security at risk." Defense Secretary Lloyd Austin criticized his actions as a "clear risk to U.S. military readiness."
"There are a number of things happening globally that indicate that we could be in a contest on any one given day," Austin said in a letter to Sen. Elizabeth Warren (D-Mass.). "Not approving the recommendations for promotions actually creates a ripple effect through the force that makes us far less ready than we need to be."
Veterans' advocacy groups are also furious. "This is petty politics at its worst," Mary Kaszynski, director of government relations at VoteVets, told me in a phone interview. "Sen. Tuberville is holding the military and national security hostage trying to impose his cultural agenda on the entire military."
Tuberville, meanwhile, is digging his heels in the sand. "I warned Secretary Austin that if he did this and changed this, I would put a hold on his highest-level nominees," he said on the Senate floor. "Secretary Austin went through with the policy anyway in February of this year, so I am keeping my word."
The senator did not respond to Jezebel's request for comment.
The policy Tuberville is protesting affects a lot of people. Between 5,000 to 7,4000 active-duty service members or civilians employed by the DoD have an abortion each year, according to the RAND Corporation. And following the overturning of Roe v. Wade, 40 percent of active-duty female service members live in states where abortion care is unavailable or severely restricted. That's roughly 18 percent of the active duty military in this country. On top of that, the U.S. military is plagued by alarming levels of sexual assault. So if you happen to stationed in a state with an abortion ban—which may or may not have rape exceptions—the help with travel expenses could be life-changing.
"Not only do service members have to leave the military health care system, which was promised to them, they have to pay out of pocket for care, and they have to navigate the maze of state bans and restrictions in order to just get essential health care," Jackii Wang, senior legislative analyst at the National Women's Law Center, told Jezebel. "The policy that the Department of Defense has established is really, really critical given the unique barriers that service members face."
The military, first and foremost, is a massive employer. It has a responsibility to provide healthcare for those people and their dependents. "We have to consider that there's lodging, service members may have to get childcare," Wang said. "We've heard a lot of service members talk about having no access to a car, so they have to get on a train, get on a bus, get on a plane. And there are states with medically unnecessary restrictions, such as those that require multiple trips."
"The hold on military promotions narrows that recruitment pool so severely because half of the people that you're recruiting from, the pool of women, are not going to be the military is an attractive option. Your talent pool goes down because one, frankly, mediocre football coach lucked into a position where he's able to do that," Kaszynski told Jezebel. "He's in way over his head."