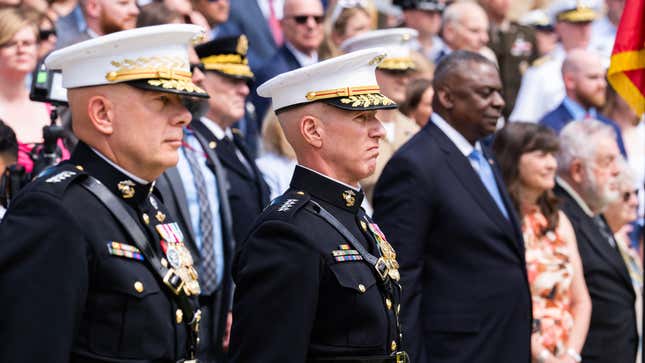 Sen. Tommy Tuberville (R-Ala.) has been blocking military appointments for months due to his opposition over the Pentagon's new abortion policy—and now his obstinacy has led to a pretty major gap in armed forces' leadership: The U.S. Marine Corps no longer has a leader. Gen. David Berger officially stepped down from his position as commandant on Monday with no Senate-confirmed successor in place.
Gen. Eric Smith is now acting commandant, but his nomination to officially replace Berger has been stalled because of Tuberville's crusade against a policy that gives members of the military time off to travel to get an abortion. Smith is one of more than 200 military promotions that must be approved by the Senate.
While the federal government is not paying for abortions, even offering time off to military service members and their dependents is too much for Tuberville. Since March, the first-term senator has zeroed in on this policy as his reason to block military promotions. Because of Tuberville, the Marine Corps won't have a leader for the first time since 1859. To put that in perspective: The Civil War started in 1861.
The Pentagon's policy change—which was announced back in February and took effect in March—was a welcome change for servicemembers attempting to take advantage of the whole spectrum of reproductive care. Members of the military and their dependents "have to pay out of pocket for care, and they have to navigate the maze of state bans and restrictions in order to just get essential health care," Jackii Wang, senior legislative analyst at the National Women's Law Center, told Jezebel in May. "The policy that the Department of Defense has established is really, really critical given the unique barriers that service members face."
Meanwhile, Tuberville has said his decision to keep military promotions at a standstill isn't bad for national security, but has stated that his stance is purely about his anti-abortion beliefs. "If Democrats can't pass legislation to authorize the abortion policy, then it shouldn't be the policy. We ought to go back to the old policy, which had been in place for decades through Republican and Democratic administrations alike," Tuberville wrote in the Washington Post last month. "This would not stop service members from getting abortions — but it would not force taxpayers to foot the bill."

Tuberville's stubbornness means top Pentagon officials will likely not be, well, official anytime soon. The New York Times reported Monday that "more than half" of the Join Chiefs of Staff will step down "during the next few months." Without successors planned, the Joint Chiefs will be populated with "acting" or "interim" leaders.
Tuberville said in his Post column that he's fine with that, as long as "the people who actually fight are not affected at all"—something he, personally, has no way of confirming.
Despite Tuberville's ongoing summer activity, Senate Democrats continue to hold hearings for potential military promotions, including two this week: Gen. Charles Q. Brown, who is expected to ascend to chairman of the Joint Chiefs, and Gen. Randy A. George, who's been tapped to lead the U.S. Army. It remains to be seen if Tuberville will ever let them actually assume those positions, though.