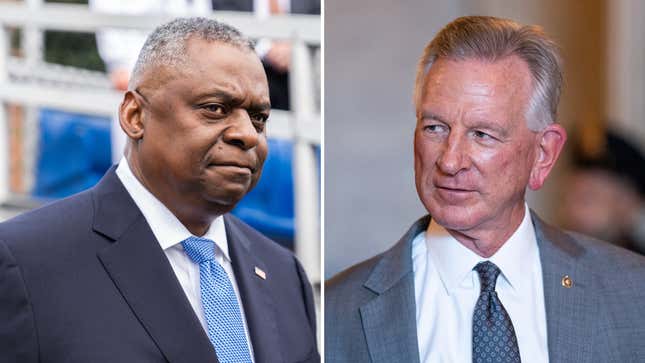 Sen. Tommy Tuberville (R-Ala.) is very busy, alright!? The former Auburn University football coach is not avoiding Defense Secretary Lloyd Austin—he's just got places to go, white nationalists to defend, and promotions to hold up.
GOP Congressman Spent His Sunday Daring Biden to 'Come and Get' His Guns
Tuberville is currently holding up hundreds of military promotions—which has left the Marine Corps without a leader for the first time since before the Civil War— because Tuberville doesn't want the Defense Department to reimburse travel expenses for service members and their dependents who are forced to travel out of state for an abortion. Following the gutting of Roe v. Wade last year, the Pentagon announced this reimbursement policy (along with three weeks of paid time off) for its employees since service members could be living on or near bases in states with little to no abortion access.
On Thursday, Austin's office said they'd been trying to schedule a call (not even an in-person meeting) between the two men, CNN host and reporter Kaitlan Collins tweeted. However, Tuberville's office originally said the first-term senator is simply too busy to chat with the head of the Pentagon, the agency directly affected by his anti-military crusade. However, by 5 p.m. E.T., Rolling Stone reported that the two men were able to talk briefly on the phone. It's unknown if any deal was brokered.

Tuberville also disputed CNN's initial characterization. "I've been on the run. I haven't been in the office all day...I'll talk to him," Tuberville told CNN's Lauren Fox. "I've got his cell number."

When CNN asked why not just quickly speak with the Defense Secretary today, Tuberville responded with, "I will. This ain't going nowhere. They have all kinds of problems."
 




Tuberville has successfully been holding up these promotions by requesting the Senate take individual votes on every single promotion instead of deploying unanimous consent to approve hundreds of recommended promotions at once—a method of approval that's been used for literal decades

The policy change was announced in February and implemented in March. Since then, Tuberville has used this reason to block military promotions across the branches. On Tuesday, Air Force Gen. Charles "CQ" Brown Jr., told the Senate Armed Services Committee that the military would "lose talent" if this continues. (Brown is the nominee to service as the chairman of the Joint Chiefs.)

This week, the Pentagon spokesperson told NBC News that up to 650 military leadership roles could be empty before the end of the year. Even more worrisome, "more than half" of the Joint Chiefs of Staff—the very tippy top of the military command—won't yet be confirmed if Tuberville continues.
It's not just top brass that are obviously annoyed with Tuberville's conduct. Commander in Chief Joe Biden chastised the former football coach during a NATO press conference in Finland on Thursday morning, calling his monthslong anti-military crusade "just totally irresponsible in my view." "I'd be willing to talk if I thought there's any possibility of him changing his ridiculous position," Biden said. "He's jeopardizing U.S. security with what he's doing."
The president said, ultimately, Tuberville is Republicans' responsibility. "I expect the Republican Party to stand up — stand up and do something about it," he said. "It's in their power to do that."
Until Republicans rein in Tuberville, it looks like publicly demanding people call each other back is the best we're going to get.