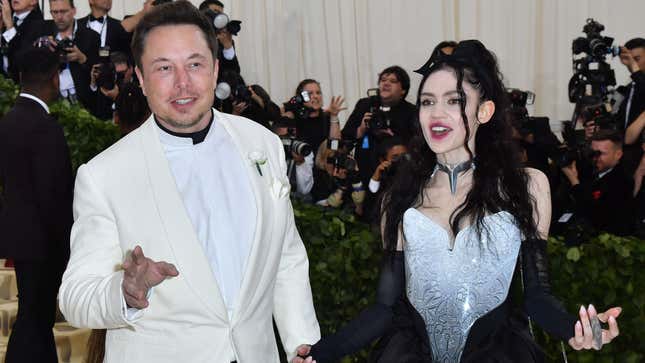 Over the last week, Grimes has lent her platform to defending Lizzo from sexual harassment and discrimination allegations and defending Doja Cat amid the singer's escalating war with her own fans, inexplicably characterizing both women as victims of "cancel culture." And now, capping off a busy week for the increasingly AI-pilled indie singer, Grimes reminisced about her romantic relationship with Elon Musk as being "like, the best internship ever," in a new interview with Wired.

The Johnny Depp and Amber Heard Defamation Trial Has Begun
Here's how Grimes defined the give-and-take of her relationship with Musk, the unabashed right-wing billionaire with whom she shares two kids:
I learned from him, like, the best internship ever. People don't like talking about Elon, but it was incredible to be right there watching all that SpaceX stuff happen. That's a master class in leadership and engineering and makes you understand how rare it is to have a leader of that quality.
I, too, dream of a romantic relationship that's akin to an internship—and with a man who allegedly told one of his ex-wives that if she were his employee he'd fire her, no less.
Grimes, for some reason, seems to be obsessed with Musk's performative intelligence and imagined business acumen, even as the "X" owner has decimated two-thirds of Twitter's value over the course of months. "Elon has an old-world kind of discipline I really respect. And I think it rubs a lot of people the wrong way. They don't want to be in that hardcore zone," Grimes told Wired. Thanks to Musk, she said, "I'm now way tougher and smarter than I used to be."
The singer also insisted Musk has learned a lot from her, too, namely in how "to have more fun," and how "to build a family culture," though there's little evidence of either of these. Musk's oversight of Twitter has seen an uptick in penalizing accounts for jokes at his expense. And as for those lessons on "family culture," he shrugged off estrangement from his trans daughter by telling the Financial Times last year, "You can't win them all." Inspiring!
As for Musk's politics, Grimes insisted that Musk—who in June eagerly promoted Matt Walsh's aggressively transphobic, medically inaccurate documentary and has spent the last year amplifying transphobes on Twitter—is not transphobic but simply hates "woke culture," all while admitting she "[doesn't] know what the term means." I'll go ahead and let that speak for itself.
She also weighed in on "the alleged cage match between Elon and Mark Zuckerberg"—specifically, will it happen??? "I think so," the singer said, though she said she'd prefer that it didn't. She added: "Dudes need some outlet for trad masculinity." (I threw up in my mouth reading that line.)
So there's a little insight, I guess, into the strange headspace of the kind of woman who would allow Elon Musk to impregnate her, in case anyone was curious.