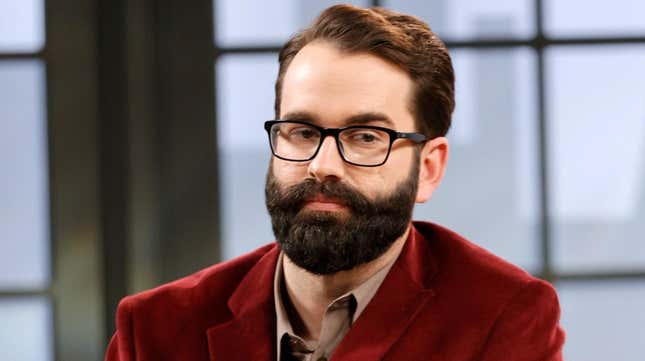 In 2022, right-wing provocateur Matt Walsh released his anti-trans propaganda film What Is a Woman?, and he released the full 95-minute film on Twitter last month, where it's since drawn nearly 200 million views. But per a new NBC report this week, three sources who were interviewed in the documentary—in which Walsh calls trans people an "insane ideological cult" and refers to gender-affirming care as "chemical castration"—say they were deceived into participating.
NBC obtained emails that show Walsh's producer, Rebecca Dobkowitz, reaching out to the sources—a trans woman, a doctor who provides gender-affirming care, and a pediatrics professor at Brown University—using supportive, inclusive language about LGBTQ identity. Dobkowitz explains that her independent documentary will highlight "the challenges [LGBTQ communities] face in today's culture." She told the sources her film would shine light on "advancements in transgender care." Instead, the documentary is rife with disinformation that dehumanizes trans people and their health care providers and encourages violence against them.
Naia Ōkami, a trans woman, told NBC she wouldn't have participated in the documentary if she knew what Walsh and his team were actually doing. In
the film, Walsh as narrator repeatedly mocks Ōkami for her trans identity and affinity for wolves and tries to connect the two, pushing the baseless theory that trans people identify as animals. "It was complete fraud in my opinion," Ōkami said. "He wanted to use me to make us look ridiculous, to make us look sensational."
Dr. Michelle Forcier, the pediatrics professor at Brown, told NBC she agreed to the interview because "learning about blockers is really important, and I'm always trying to be available to talk about the science and help people understand." But within minutes of her interview with Walsh, she says he equated gender dysphoria with believing in Santa and used the term "chemical castration" to refer to puberty blockers. "I thought, this is not what I thought this was going to be… This is now a gotcha video, and I was not quite informed about what's going to be happening today," Forcier said. "[Walsh] was getting frustrated because I just wouldn't say some of the things he wanted me to say." She wound up stopping the interview within minutes and when she reached out to the filmmakers for more information afterward, they never responded.
Dr. Marci Bowers, a California-based surgeon who works with trans women, told NBC she now sees Dobkowitz's email asking to interview her as "completely deceptive." Bowers says Dobkowitz "sugarcoated" her descriptions of the documentary and "didn't give me an indication of what it would really be about." She maintains that she was misled but doesn't regret her participation, because it will always be her goal to educate the public about trans health care.
"He edited it in a way that wasn't fair, so it doesn't leave people with any sort of knowledge or education. It just heightens their fears of trans people—to his and his viewers' loss," Bowers said, adding, "Matt really is just a bully. … These are adults bullying and victimizing children."
In a Twitter thread shared last February, just after Walsh had conducted his interviews with Ōkami, Forcier, and Bower, trans rights advocate Eli Erlick shared a string of deceitful emails she'd received from Walsh's team. Walsh's people had used a fake name and front organization called the Gender Unity Project to try to get Erlick to participate in their documentary. And Erlick claimed the right-wing provocateur Robby Starbuck had also reached out to her with a misleading proposition to participate in his anti-LGBTQ documentary. "The style of Matt's film is going to be replicated," Erlick told NBC. "I think they're using it as a model for a new form of far-right disinformation masquerading as a documentary."
These methods are not only wildly unethical—they're also dangerous, even life-threatening. Over the last couple years, as politicians and right-wing influencers have escalated their harassment and transphobic disinformation has spread far and wide, trans people and trans health care providers face greater threats to their safety than ever. In the last year, numerous bomb threats have been called to a children's hospital in Boston that provides gender-affirming care to young people, and a gay lawmaker in California also faced multiple bomb threats for passing a bill to protect trans youth.
Bowers, who faces torrents of harassment and threats each day for caring for her patients, told NBC that one person—who possibly found her from Walsh's documentary—recently uncovered her daughter's social media accounts and told her she's going to hell. Forcier told the outlet "people send really graphic, sexual, violent comments about me being a pediatric gender-care provider," which are "way more graphic and sexual than any work I've done." She keeps a folder of the most aggressive emails she receives in the event that she'll have to share them with law enforcement.