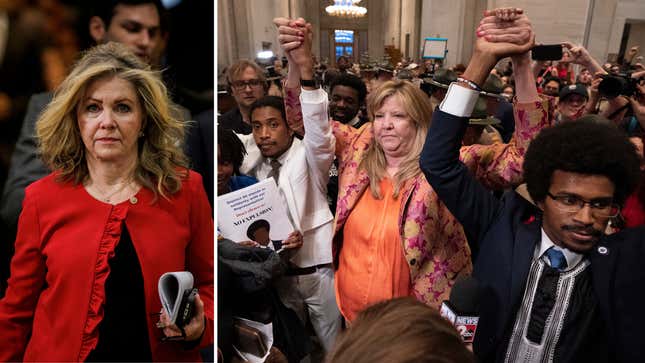 Tennessee State Rep. Gloria Johnson (D), one of the "Tennessee Three" who led chants for gun reform on the floor of the State House in March, has launched an exploratory committee to run for Senate in 2024. It's the seat held by Sen. Marsha Blackburn (R-Tenn.), a shrieking embodiment of conservative victimhood and persistent reminder that women also uphold the patriarchy.
Johnson, 61, is a retired special education teacher who joined State Reps. Justin Jones and Justin Pearson to call for gun reform in March, following a deadly mass shooting at a Nashville elementary school. Johnson, Jones, and Pearson approached the House podium between bills without being recognized to speak in order to lead the chant as protestors packed the galleries. And for this grave sin, Tennessee Republicans moved to expel all three.
The legislature spared Johnson by a single vote but voted to expel Jones and Pearson, who are both Black. According to leaked audio, Republicans were worried about looking racist but did it anyway. (Jones and Pearson were reinstated on an interim basis and they officially won their seats back in a special election last week.)
When CNN asked Johnson about why she thought the legislature treated her differently, she didn't mince words. "I think it's pretty clear. I'm a 60-year-old white woman, and they're two young Black men," she said.
Johnson appears to use her status as a white woman for good. Meanwhile, Blackburn, the first woman U.S. senator from the state, uses her white womanhood to attack the right to birth control, defend Neanderthals, and ask the first Black woman Supreme Court nominee to define what a woman is.
Johnson filed her exploratory paperwork last week, according to the Associated Press, a step that usually comes just before a campaign launch and allows a potential candidate to begin raising money. No Democrat has won a statewide office in Tennessee since 2006.
In a statement about launching the exploratory committee, Johnson said, "Tennessee has a Senator that stands with bullies, I have a reputation for standing up to bullies. I'm taking a serious look at this race and having great conversations with folks who are hungry for better leadership in Washington."
Get her ass, Gloria.