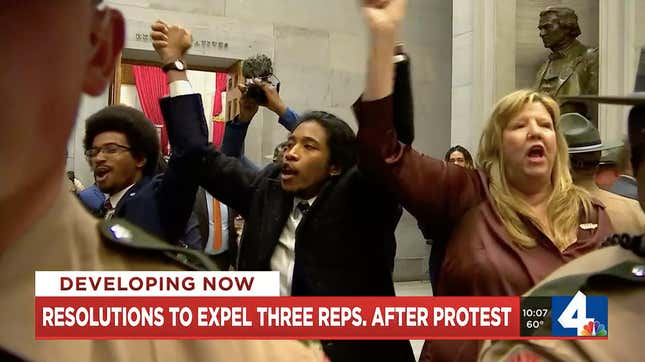 Tennessee Republicans are attempting to expel three Democratic lawmakers who led chants for gun reform on the floor of the State House last week after a mass shooting at a Nashville elementary school left six people—three children and three adults—dead. The resolutions passed in a party-line vote of 72 to 23, as the angry crowd chanted, "Fascists! Fascists!," and the final expulsion vote is scheduled for Thursday, according to the Tennessean. The Associated Press noted that only two lawmakers have been expelled since the Civil War.
Betsy Wolfe Reveals the 'Most Embarrassing Thing That's Ever Happened' to Her on Stage
State Rep. Gloria Johnson (D), one of the three Democrats being expelled, highlighted the stunning hypocrisy at play. "We had a child molester on the floor for years, they helped him get reelected and did nothing to expel him," Johnson said. "We've had members pee in each other's chairs. We've had members illegally prescribe drugs to their cousin-mistress, and nothing happened. But talk on the floor without permission, and you'll get expelled."
On Thursday, Johnson and fellow Democratic State Reps. Justin Jones and Justin Pearson had approached the podium between bills without being recognized to speak. Jones and Pearson used a bullhorn to lead student protestors in the House galleries in chants of "gun reform now."
State House Speaker Cameron Sexton (R) said on a radio show later that day that their actions were "maybe worse" than those of the January 6 insurrectionists. "They were not recognized," Sexton told reporters on Monday. "I started speaking, and they pulled out a bullhorn and started making a protest on the House floor." Yes, god forbid elected officials ignore decorum to try to get their colleagues to pass laws so peoples' bodies don't get blown apart by weapons of war. The three lawmakers will have an opportunity to make statements before the vote.
Sexton added on Twitter that the three Democrats' actions "distract us from protecting our children"—though I highly doubt he'll do a damn thing to protect kids from mass shooters.
The move to expel lawmakers came after a day of protests at the capitol. March for Our Lives and Students Demand Action staged a walkout on Monday, where students left class, walked to the capitol building, and filled the hallways to demand an assault weapons ban.
Elementary school students also joined in:
Rep. Jones said in a video posted around 2 p.m. that he and Johnson had been removed from their House committees and all three had their ID badges deactivated. Sherrilyn Ifill, former president and director-counsel of the NAACP Legal Defense Fund, shared the video with a stark warning: "This is how democracy ends."
Former Rep. David Byrd was accused of sexually assaulting teenagers decades ago when he was a basketball coach and he was not expelled. Johnson herself filed a motion to expel Byrd in 2020, but it failed. Associated Press reporter Kimberlee Kruesi tweeted that GOP lawmakers told her they didn't want to expel Byrd because "they didn't want to go against the will of the voters."

U.S. Sen. Chris Murphy (D-Conn.), a staunch gun control advocate following the 2012 mass shooting at Sandy Hook Elementary, described the news as "bone chilling."

It appears the Republican playbook of doing whatever it takes to block popular policies is no longer limited to gerrymandering and voter suppression, but now also throwing out people who dare to fight for their constituents' lives.