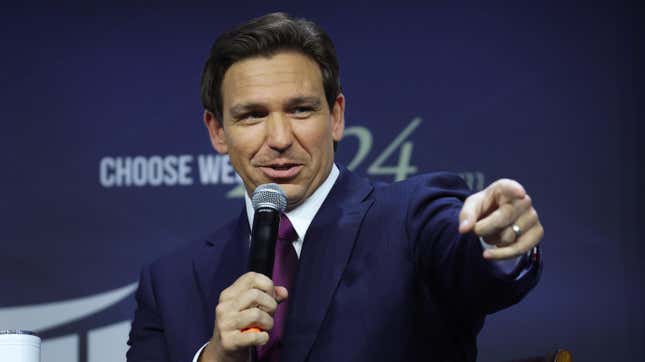 Under the neglectful eye of Ron DeSantis, Florida's educational offerings have been looking increasingly bleak since the state adopted the Parental Rights in Education Act, also known as the "don't say gay" law, in 2022. Now, along with its vilification of classroom lessons about queerness and gender identity, Florida school districts are turning their focus to anything housing sexual content—including AP psychology courses and, it appears, the works of William Shakespeare.

Betsy Wolfe Reveals the 'Most Embarrassing Thing That's Ever Happened' to Her on Stage
According to the Tampa Bay Times, some Florida schools are planning only to use excerpts from Shakespeare's works, rather than the full texts of his plays, to avoid content that's too sexual afoul of the law. "There's some raunchiness in Shakespeare because that's what sold tickets during his time," Joseph Cool, a reading teacher at Gaither High School in Hillsborough County, told the Times. "I think the rest of the nation–no, the world, is laughing at us. Taking Shakespeare in its entirety out because the relationship between Romeo and Juliet is somehow exploiting minors is just absurd."
Despite Florida's 2020 Benchmarks for Excellent Student Thinking standards, in which the Department of Education recommended works of Shakespeare as "top of the line literary works with world renowned titles," Hillsborough County has become just the latest district to instruct teachers only to assign excerpts Romeo and Juliet.

This news comes less than one week after Florida effectively banned high schools from teaching AP Psychology courses, according to NBC, because of its lessons about sexual orientation and gender identity. The state's Department of Education reportedly told the College Board that "teaching foundational content on sexual orientation and gender identity is illegal under state law," and clarified that they did not intend to ban the course outright, but to simply restrict the sections about human sexuality.

"The state's ban of this content removes choice from parents and students," the College Board said in a statement last week. "Coming just days from the start of school, it derails the college readiness and affordability plans of tens of thousands of Florida students currently registered for AP Psychology, one of the most popular AP classes in the state."

The College Board also pointed out that removing human sexuality lessons from the course "would censor college-level standards," adding that these materials have been included in the course since its inception over 30 years ago. Considering that DeSantis would also prefer Florida schools teach students that slavery actually benefited African Americans (it unequivocally did not), soon enough, Florida's teachers may not be doing much teaching at all.