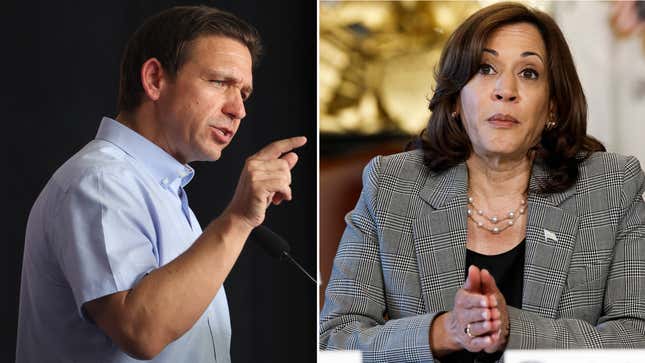 UPDATE 8/1/23:  On Tuesday afternoon, Vice President Kamala Harris declined Florida Gov. Ron DeSantis' (R) invitation for her to join him in an "open and honest dialogue" about his racist public school curriculum that suggests slavery had benefits for enslaved people. "I'm here in Florida and I will tell you there is no roundtable, no lecture, no invitation we will accept to debate an undeniable fact: there were no redeeming qualities of slavery," Harris said in a speech while visiting the state. A video of her remarks is included below.
Kamala Harris Introduces Herself Respectfully and Conservatives Throw a Fit
As Ron DeSantis' presidential campaign continues to freefall, the governor is trying to rally his base by digging his heels in Florida's new public school curriculum that suggests slavery benefited enslaved people by teaching them useful skills. This has drawn criticism from fellow Republican candidate Sen. Tim Scott (R-S.C.) and other Black Republicans in Congress, as well as Vice President Kamala Harris, who accused DeSantis of "gaslighting" Black people.

On Monday night, DeSantis shared a letter inviting Harris to join him for "an open and honest dialogue" about his curriculum. "[G]iven your grave concern (which, I must assume, is sincere) about what you think our standards say, I am officially inviting you back down to Florida to discuss our African American History standards. We will be happy to host you in Tallahassee," he wrote. DeSantis also said William Allen, a member of Florida's African American History Standards Workgroup, would be present for this debate.
As Judd Legum highlights in his Popular Information newsletter, Allen, a right-wing author known as a "conservative Black leader in education," has a history of alarming anti-Black, anti-LGBTQ commentary. This includes speaking at an anti-LGBTQ conference in 1989 that was titled, "Blacks? Animals? Homosexuals? What is a Minority?" More recently, he's compared diversity efforts in public schools and the "whole idea of diversity and identity to "apartheid." Allen is also accused of kidnapping a 14-year-old Indigenous girl from her reservation in 1989 amid a spat between the girl's birth mother and a white couple who wanted to adopt hert. (Allen eventually apologized for the incident but maintained that the girl wanted to leave her reservation.)
As a reminder, DeSantis and Allen are defending curriculum that states that slavery taught enslaved people valuable skills like blacksmithing, which they could supposedly leverage after slavery. There's nothing, really, to have an "honest and open dialogue" about with anyone who can name a single benefit to the institution of slavery—mind you, people could have learned blacksmithing skills while not being enslaved, tortured, raped, experimented on, and dehumanized.
DeSantis' invitation is obviously just an empty political stunt, and one that uses Harris—the nation's first Black Vice President—as a political prop. But it's such a shameless move that even Rep. Matt Gaetz (R-Fla.) is mocking the governor about it.
I'll say it: At the point where Florida's frattiest idiot congressman is joining the rest of the world in dunking on you, it's probably time to pack it in.