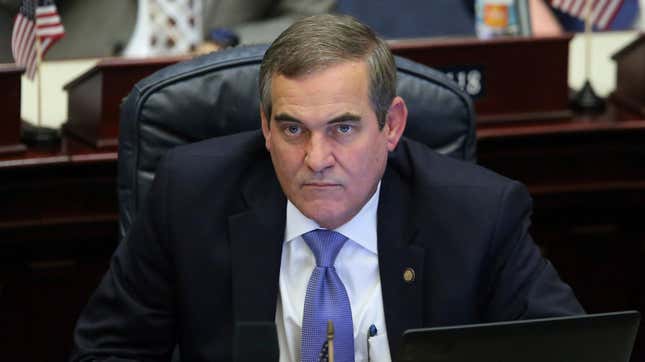 In the latest attack on students and schools in Florida, the state's GOP-led legislature is considering a bill that would ban girls from talking about their periods in school.
The Fight For Abortion Rights has Reached New Heights
According to the Associated Press, the legislation—which has yet to reach the House floor—would ban any discussion of menstrual cycles in an academic setting before sixth grade. Language in the bill also makes the process of banning books or materials parents deem inappropriate (i.e. subject matter like racism, social justice…you know, all the makings of healthy and self-critical democratic inquiry!) simpler and more streamlined. Lastly, the bill—apparently a garbled dumpster fire of discrimination—would require schools across the state to teach that a person's "sexual identity" is determined biologically at birth.

On Friday, Democratic state Rep. Ashley Gantt told The Washington Post she found the bill to be "egregious."
"I thought it was pretty remarkable that the beginning of a little girl's menstrual cycle was not contemplated as they drafted this bill," she said. "We don't get do-overs with children, we don't get that opportunity again…so why are we implementing or proposing policies stopping little girls from understanding their body?"
House Bill 1069, which passed the state legislature last week, would ensure that "instruction in acquired immune deficiency syndrome, sexually transmitted diseases, or health education" only take place in sixth through twelfth grades. Republican state Rep. Stan McClain, who is sponsoring the bill, said the legislation is meant to standardize sex education across Florida's 67 school districts, though barring girls from talking about what's happening in their bodies at school only serves to worsen the already sorely lacking sex ed initiatives in the U.S.

Most girls get their periods between the ages of 10 and 15 years old. But early puberty is increasingly taking place in girls as young as 8 years old—an alarming trend that doctors reported during the pandemic. That means Floridian students who get their periods between the ages of 8 and 11, or between second and fifth grades, would not receive formal education about menarche until several years after the process begins in their bodies. This delay in education starkly contrasts the advice of medical professionals: Johns Hopkins Children's Hospital, for example, recommends that children learn about the physical and emotional changes that accompany puberty by the time they're eight years old.

During a House Education Quality Subcommittee Wednesday, Gantt reminded the GOP that girls often start their periods earlier than sixth grade, and asked point blank if the bill would actually ban those girls from talking about their menstrual cycles. "It would," McClain said.

Gantt also asked if teachers would be penalized for discussing menstruation with students who get their periods on the earlier side. "My concern is they won't feel safe to have those conversations with these little girls," she said. In response, McClain said "that would not be the intent" of the bill, adding that he is "amenable" to changes.

The bill is expected to be signed by Florida Gov. Ron DeSantis, notorious for railing against "woke ideology," in his pursuit of a potential presidential campaign in 2024. In recent months, the conservative governor has banned trans students from participating in school sports and placed restrictions on discussions of gender identity and sexuality in classrooms, according to USA Today. Additional proposed legislation coming out of Florida seeks to ban gender studies majors and slash DEI efforts at universities.

Florida's GOP leaders appear hellbent on stripping away every last right from its students. And unfortunately, it seems this string of draconian bills is only just getting started.